Wireless Solar Driveway & Gate Alert
Gate Alert PDF Brochure

Wireless Driveway & Gate Alert is a completely wireless SOLAR powered perimeter beam kit. When the beam is broken, it sends a wireless signal to a dual channel receiver up to 800m away. The receiver sounds a reasonably loud "beep beep" alert when a person or vehicle moves through the invisible lazer like beam. However, the receiver has relay outputs as standard meaning it can trigger devices such as an outdoor siren or strobe, pocket pager, even a mobile phone text alert.
Gate & Driveway Alert is completely DIY and ideal for remotely monitoring farm entrance ways, Gate Monitoring, fuel storage areas, intrusion, storage sheds, building sites, machinery, wineries and any area where cabling and power is not possible so the list of uses is endless. Gate alert is also Ideal for monitoring multi access points and zone protection. The standard transmission distance is up to 600-700m although several kilometres can be achieved with long range antennas.

The Wireless Gate & Driveway Alert system is all solar powered so cables or power are NOT needed. An invisible photo-electric (PE) beam between two points up to 40m apart (like a dual laser beam) making it far less prone to the false alarms and weather changes compared to other PIR (Passive Infra Red) budget gate alert devices. In other words its far more reliable by compared to any other even remotely similar product. A pet can walk beneath the beam without triggering.

Other options include GSM text message alerts or a battery operated pocket pager – useful if you work around your property. Ask us about other fuel monitoring options including battery operated and/or solar powered motion sensing surveillance Grafitti cameras with built in 3G modem which basically means the camera can send pictures of movement to your mobile phone or email address. For more battery powered and Solar Powered Security Cameras see Solar Camera and Portable Cameras here.
SKU
Wireless Solar Driveway & Gate Alert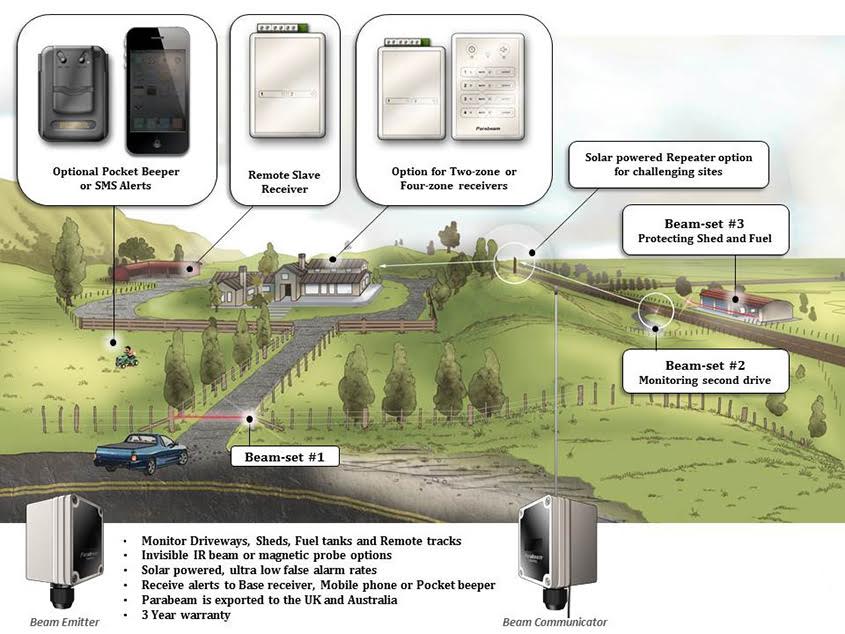 What makes our Wireless Gate Alert different from any other device?
Most other wireless devices rely upon a PIR (Passive Infra Red) Motion sensor to trigger a wireless signal back to the receiver however, from past experience we have found that PIR technology is fine indoors but not outdoors. A PIR is looking for sudden heat changes to determine motion although a gust of wind could be considered motion as far as a PIR is concerned and will therefore send an alert to the recevier. Of course there was no movement at all and what you would have is a FALSE ALARM. People can put up with the odd false alarm but consider a windy or wet day and that is where outdoor PIR sensor is simply not up to a decent standard.

Furthermore, if you have a wide gate or wide entry point, a person would not have to be too far away from the PIR not to even detect that person at all. Our Wireless Gate Alert is quite different. It does not rely on PIR technology. It relies on dual Photo-electric beams between two points up to 40m apart and both beams need to be broken or physically interrupted before an alarm is triggered. Consequently, our system is not affected by heat, wind, rain or any normal outdoor elements the result being NO FALSE ALARMS. So the question is WHY SETTLE FOR ANYTHING LESS?
Who could benefit from a Wireless Gate Alert system and why?
Its a good point actually and just who could benefit from a wireless device such as this? To give you a few examples, our customers include Farmers, Builders, Hobby Farmers, Residential Home owners, Construction Sites, Machinery Owners & Operators, Loggers, National Parks and Wildlife, Councils, Wineries are big customers and so the list goes on.

One of the most challenging aspects of any perimeter zone or gate security is power, access, distance, the amount of work involved in simply running cable and the cost involved. Forget about all that, its not necessary. Lets look at a typical scenario and from that, you decide whether the Wireless Gate Alert would benefit you.

If we look at a typical Winery as an example. In many instances the Winery is run by a husband and wife team, and perhaps other family or staff. Lets call them Mr and Mrs Smith. Some properties can be quite large but owners encourage and entice passing motorists to enter the estate for wine tasting. More often than not people will either drive or walk onto the property unannounced. Suddenly and without warning, someone is standing at the front door of the homestead. Sure its nice to be able to welcome new people and potential customers but wouldn't it be even nicer to have at least a little warning that someone is approaching?
Let's say Mr Smith is driving his tractor so he didn't see or hear anything. Mrs Smith was in the shed (sampling produce perhaps) but she didn't hear anything either. No one is inside the main house at this time and even worse the front door is either unlocked or open. The Smiths don't know who these people are. Yhey could be anyone and not necessarily customers!
If on the other hand Mr Smith had installed our Wireless Gate Alert either at the driveway entrance or, if you like, further up the driveway, several things would have happened. With the addition of a small battery operated pocket pager, Mrs Smith would be aware that someone has passed through the gate and beam and if Mr Smith was also wearing the optional pocket pager, he too would have been alerted. However, if one or the other was actually insde the house, the main base receiver would have sounded a loud beep beep sound. In this regards if the Smiths were anywhere within a 200m radius of the house, even if not inside the premises, they would have still been alerted to a person or vehicle approaching.
What's more, we can even provide an optional outdoor blue alarm flashing strobe light as a visual indicator.
What Happens when a small animal or our pet moves through the beam zone?
This is another great feature about our Wireless gate Alert kit. As mentioned previously this is not an Infra Red Motion sensor. It is dual PE beams and those beams can be lowered or raised to any height you desire. At about 1m in height, a small animal can move freely beneath the beams without causing a motion activation to be sent to be sent to the recevier. On the other hand, if a person (obviously above 1m in height) or a vehicle were to pass through the beam, it will then send a signal to the receiver inside the main house. The result is less false alerts.
How does it work?
When the beam is crossed, a wireless signal is sent to a home base receiver notifying you immediately with a "beep beep" sound. With just one base receiver, up to 2 separate zones can be monitored from the one location. If a zone is crossed or breached, the receiver will announce a different tone for each zone and the base receiver light will display which zone (1-2) was triggered. For those hearing impaired, options include an interface that could trigger a home or office light/strobe etc to illuminate rather than an audio signal or both. This feature could be handy in noisy environments as well.
The 12V receiver is provided with relay inputs and OUTPUTS meaning the receiver can trigger any number of devices to activate once a beam zone area is triggered. An outdoor loud speaker or alarm siren for example, could be used as another alert option is desired. Talk to us if you have any questions or looking for suggestions.
Without any additional antennas expect between 500-800m signal reception(we have achieved double that distance in trials) from beam sets to the receiver using our standard supplied antenna. Optional high gain antennas are also available for long distance transmissions of several ks. Please note that terrain and obstacles will play a role in reception distance but in many instances transmission distance issues can be overcome quite easily by adding a higher gain receiving or transmitting antenna. Sometimes simply moving the receiver slightly in one direction or another will make all the difference but the point is, all properties are different but in most instances issues concerning transmission can be overcome by making slight adjustments to antennas.
Can I have more than 1 single Zone?
Actually this is DUAL zone system capable of monitoring a distance 40m wide but we also have 4 zone base receivers as well. in some circumstances the Wireless Gate Alert system is powerful enough to create an entire perimeter surveillance zone. Assuming you have 2 gates, one at the back and one at the front, or perhaps a gate and shed entrance, at least the home owner will know from which direction a person or vehicle has accessed your property. Please call our office if extra zones are required rather than purchasing online.
Will I get false alerts due to rain or wind and sudden temperature changes?
No. As Wireless gate Alert has dual invisible PE beams between two points, both beams need to be broken at the same time to triger movement so again our system is not affected by weather and temperature.
Can I be alerted to any movement if i am not at home?
The receiver supplied with the Wireless gate Alert kit is small (about the same size as a cigarette packet) but actually quite powerful. The receiver comes with a 12V power supply and whilst it is a good idea to plug into a normal power point, it could also be connected to a 12V battery. Best to contact our office if you have questions of this nature. The question in this instance is how can I be alerted to any movement on my premises if I am not at home.
If you have mobile phone reception on your property, we can also supply a 3G modem. You supply a Data SIM card only perjhaps with some provision for text. Simply connect the 3G modem to our receiver and if any zone is tripped, an SMS alert will be sent to your mobile phone. In fact it can send SMS alerts to several mobile phones. Its called the 3G Text Message Communicator.
Wireless Gate Alert - Main Points
Three-year warranty
Proper 'photoelectric beam' (not a PIR)
Solar panels over-rated, freely mountable with UV protection + 15m leads
Customer can replace rechargeable batteries (after about 3 years)
Pocket receiver or text messaging options
Spare parts available and repairable if damaged etc.
50m detection beam (maximum)
Transmission range is typically 300-400m and may be extended to 2.5km's with larger antennas.
Outputs for controlling lights or sirens
You can temporarily isolate particular zones
Six beams may be monitored
Beam design proven reliable for six years (October 2005)
IP66 rated enclosure (waterproof)
Ant / insect proof
Optional SMS alerts via GSM (see below)
3G Text Communicator
Receive text message alerts from your Gate Alert system anywhere within mobile phone coverage
Plugs directly into the base receiver - no additional power source required
Ideal for almost any remote monitoring applications
Know when to view your CCTV network cameras
Sent "plug and play" - pre-programmed with your phone numbers
Use prepay or on-account Telstra, Optus or Vodafone SIM card
Can send text message alerts to multiple telephone numbers
Customised alert messages such as: "Gate One Intrusion" / "Car Park Activity"
Enable / Disable by text message
Two zones - alerts sent from zones 1-2 of base receiver.
Activate a spare relay output via text message to operate lights etc Low power consumption - may be incorporated in a solar-powered solution<span >

Can I still be alerted if I am in shed or not near the receiver?
Absolutely. This is our optional Wireless Gate Alert Pocket Pager. This is a small battery operated pager to be pocket or belt worn. The Pocket Pager will beep if there is entry through the beam set/s. Very handy if you are not in the main house, perhaps out the back or in the shed and you still need to receive alerts or notifications that someone has come through the front gate. The Pocket Pager is simply an optional item that can be added to your Wireless Gate Alert system at any time. The beeper as you can see is battery operated. The T-Shape antenna is connected by the black and red wire to the receiver. This is a mini transmitting antenna specifically for the pocket pager.