HD Pen Cam Audio/Video Recorder
This HD Pen Spy Camera is a High Resolution typical pocket pen with a built in pinhole colour camera. It supports 4-16GB micro SD card preferrable class 6 or better (class 10 recommended) and it will constantly record at 1280x960 resolution, in real time with stable video quality. The internal battery has a recording capacity of approximately 1 hour and it can be charged from PC USB or a optional 5V USB power supply.

HD Pen Cam Audio/Video Recorder
Product Reference PEN-01

5 IN 1 Function
Audio/Video Recording, PC Camera, Still Photo
USB Storage, Ball Point Pen

Features
Slim covert camera built into a functional writing Pen
Internal microphone records high quality audio in sync with video
Suitable for any device with a USB interface
USB2 compatible
No Drivers or power needed
Supports Support WINDOWS98/98SE/ME/2000/XP/MAS OS/ LINUX system
Read speed: 900k/700k/sec (depending on host speed)
1280x960 video resolution
Audio/Video recording
USB micro SD card storage
How does it work?
Its actually relatively simple. First connect the Pen to your PC or MAC USB with the supplied lead. The lead has a standard USB at one end and a mini USB interface at the other. A blue LED will blink slowly whilst charging then stop blinking when fully charged. The micro SD card needs to be fully inserted into the slot marked 7 with the SD card gold strip facing the mini USB so its important not to try and insert the card incorrectly.
Once the battery is charged, press the button marked 1 as pictured and a blue LED will illuminate solid. Press the same button again and this time hold for a few seconds then release. The blue LED will blink 3 times and then go off completely so whilst it may not appear to be recording, in fact it is and discretely with no tell tale LED lights. The same applies to switch the recording off.
To playback recordings on the SD card there are 2 options from which to choose. Firstly the pen can be connected directly to PC and it will appear as an external drive in My Computer. Open the external drive to see a small "time setting" file, a video file and photos file. This Spy Pen camera can record still pictures or video so both options are available for playback.
Each video file will be followed by an AVI extension so by right clicking any video video file, your PC will ask "OPEN WITH" so choose either Windows Media Player or VLC which is free AVI player for Windows and MAC available here www.vlc.com
Any required recordings can be saved to PC and retained for future use.


Specifications
Video resolution:1280x960
Photo resolution: 3264x2448
Camera Pixel: 3.2MP
Frame rate:30F/S
Real time recording in AVI video format
Video Recording Time: Approximately 240 minutes/8GB memory
Memory: Supports 4-16GB micro SD card optional
Playback video on PC
Sensitive: 0.4LUX(1.3V/LUX.SEC)
Adaptor type: USB adaptor charging cable
Battery type : Lithium-ion
Record time : up to 1.5 hours
Dimension: Slim Size, 13mm Wx140mm L
Weight: 150 g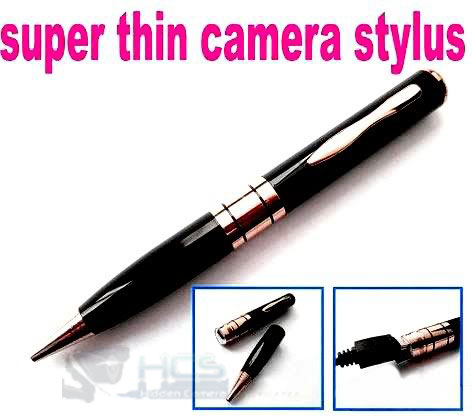 Package Contents