1080P Night Vision Car Key Spy Camera with Motion Detect Recording
This is an all metal 1080P Spy Camera which looks like a car remote control key. The video and audio quality is sensational and very easy to use.
One button press arms the camera into standby mode and another button puts the device into constant video and audio recording.
Another camera feature is Motion Detection. Whenever the concealed pinhole camera detects motion, it will record HD video and audio for a period of 5 minutes. If motion continues it will automatically resume recording. It can even record in total darkness by arming the the night vision sensors and automatically switching the camera to B/W recording.
Please note that we we supply easy to understand English User Manual for each camera. We understand that some user manuals are poorly written and most difficult to comprehend so we have taken the time to go through all features and functions and prepare a decent user manual which is only available to our customers.

1080P Night Vision Car Key Spy Camera with Motion Detect Recording:
Product Number: CarKey-05C
The CarKey-05C really looks the part and ideal for room or body worn surveillance. The internal lithium battery has a capacity of up to 3 hours monitoring and recording. Its important to understand that whilst this hidden camera has a battery capacity of about 3 hours before needing a recharge, just because it has motion detection doesn't mean that the battery will last longer than 3 hours. If on the other hand you wanted longer term recording capability, call our office to order the optional 5V USB adapter power supply. This enables the spy camera to be connected to power for longer term recording so realistically, if using power, the camera will need to hidden and out of view rather than being left exposed for all to see.
At 1080P HD recording resolution, it will use about 3GB of SD card memory per hour of recording. In this regard we recommend the optional 16-32GB Class 10 or better micro SD card.
Customers are free to supply their own SD card otherwise we can optionally supply with your order.
For all intents and purposes this looks like a car key or car remote control but of course its not. It can be easily left on a table or bench armed and activated but no one will know. The SD card is very cleverly concealed.
If you wanted to hand hold the carkey camera (which is common) it will record both video and audio so just a matter of carefully aiming the pinhole lens in the general direction of the person you wish to record. It may be that you have an abusive neighbour or a school bully etc and you need to discreetly obtain audio and visual evidence. This product represents both quality and value.
How does this camera see in the dark?
Its actually quite simple and discreet. Just near the camera pinhole lens are 2 LED's which can be switched on or off as you choose. In most instances if lighting is average to good then the night vision LED is not necessary. However, in a situation where you suspect something is going on in the dark, the tiny IR LED's will illuminate thus allowing the pinhole camera and see and therefore record in complete darkness. The LED is Infra Red and not easily seen so its quite discreet.
What about playing back recordings?
Once again quite easy and compatible with MAC or PC. Hidden beside the concealed SD micro SIM is a mini USB interface. The CarKey Camera is supplied with a USB lead where one end is mini and the other end standard USB size. The camera battery can be charged from PC USB as well. When you connect the camera to your PC, a new device will be found which is basically the SD card. By opening that file you will see a series of AVI files or motion detection events. By clicking on that event, users select either Windows Media Player or VLCwww.vlc.com to choose the preferred player. View each recording and if you like save any of the recordings direct to your PC where its then safe and archived for later viewing and sharing if needed.
The other option is to remove the SD card (device must be off at the time) and slot the SD card into a USB reader so there are plenty of choices.
Can this spy camera record long term if connected to USB Power?
Yes the spy camera can record whilst charging via the optional 5V USB power supply (call if required)
As mentioned, this camera has a mini USB interface so if being used as a spy camera and connected to PC USB or a 5V power supply, its not really covert or hidden anymore. If on the other hand it was concealed or hidden somewhere, that's different. Otherwise in answer to that question, if you need longer term recording more than a few hours,the 5V power supply option ticks all the boxes.
Features
Video & Audio recording
Audio recording only
Still Photos
Motion detection recording
IR night vision
PC camera function
TV out
Specifications
Video format: AVI
Video coding: H.264
video resolution: HD 1920X1080
Pictures: 12M
Image format: JPG
Image ratio: 4:3
LED: 2
Recording time: About 75 minutes
Charging voltage: DC-5V
interface: Mini 8 Pin USB
Storage support: TF MAX 32GB (Optional)
Support system: Windows ME/2000/XP/2003/Visa, Mac OS, Linux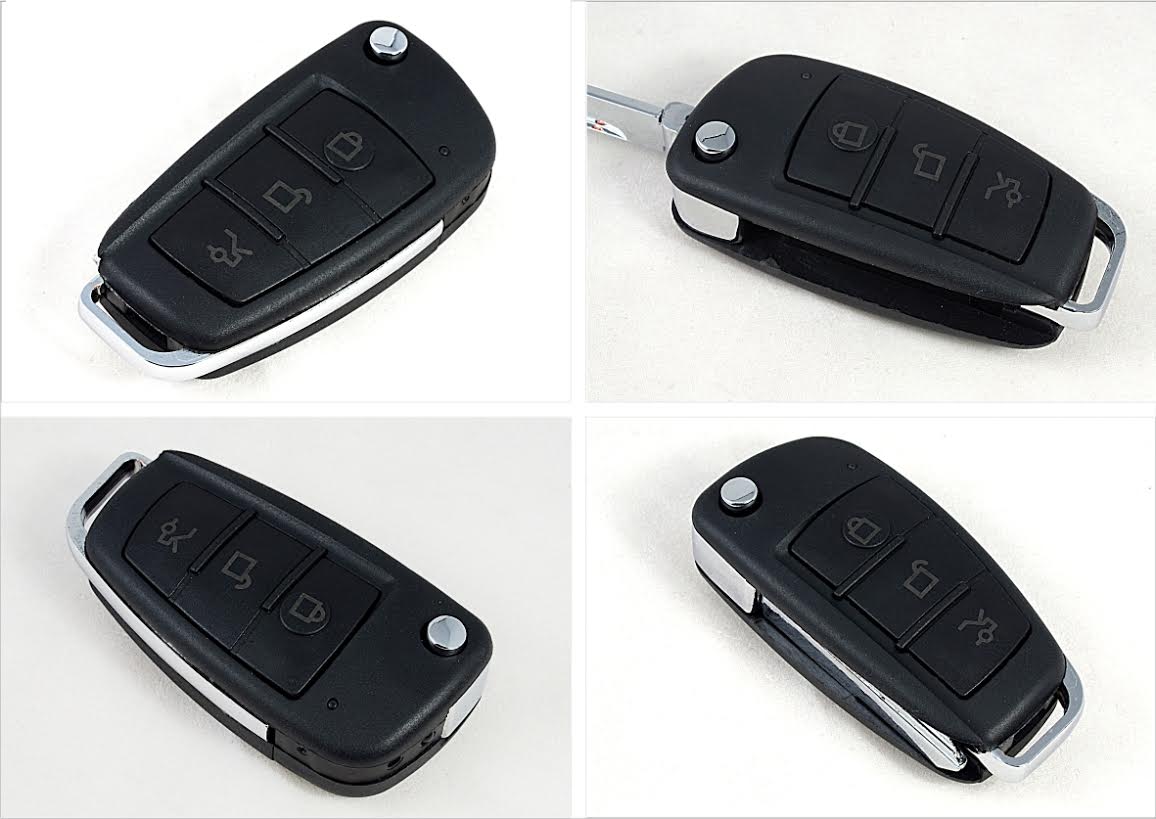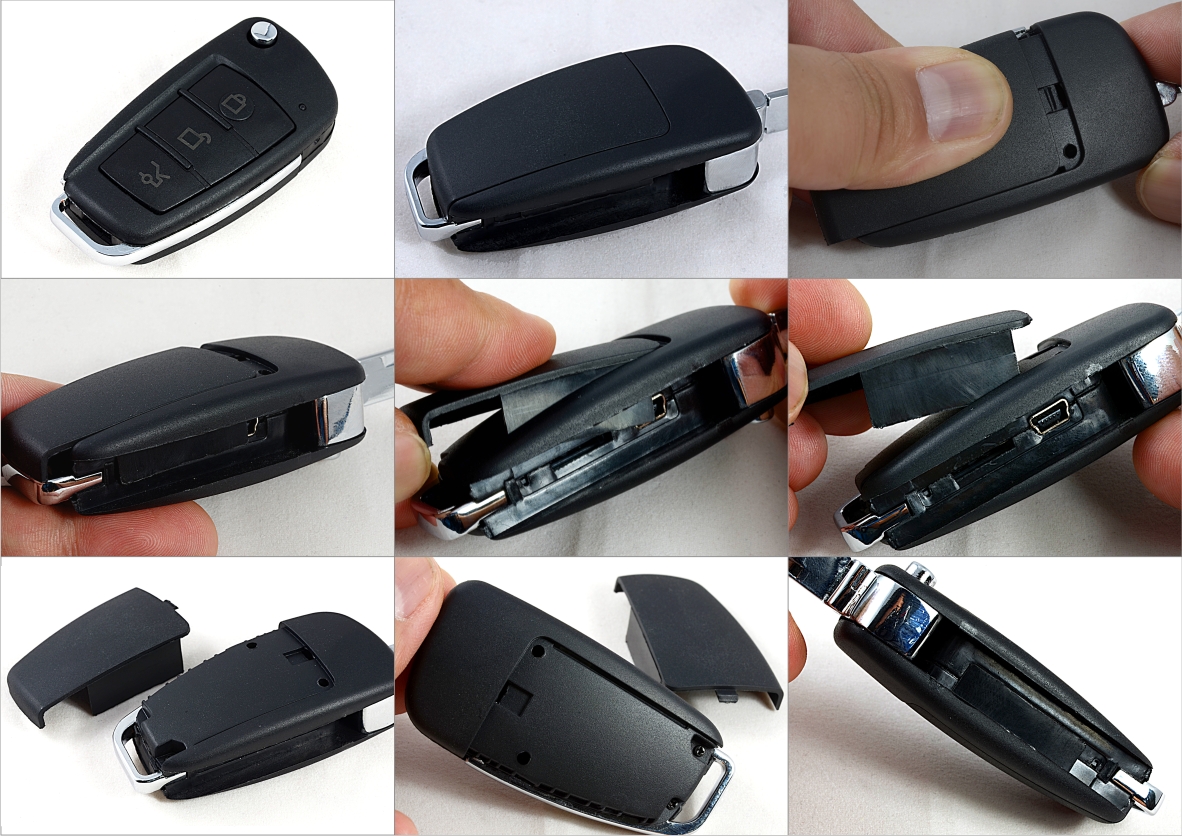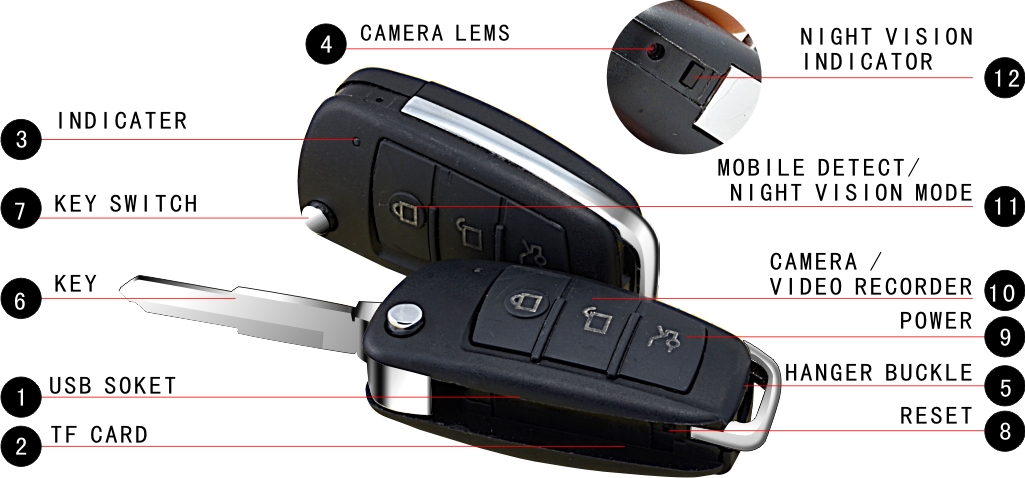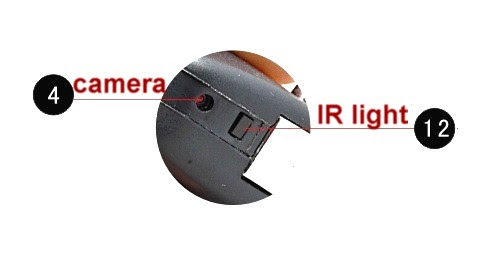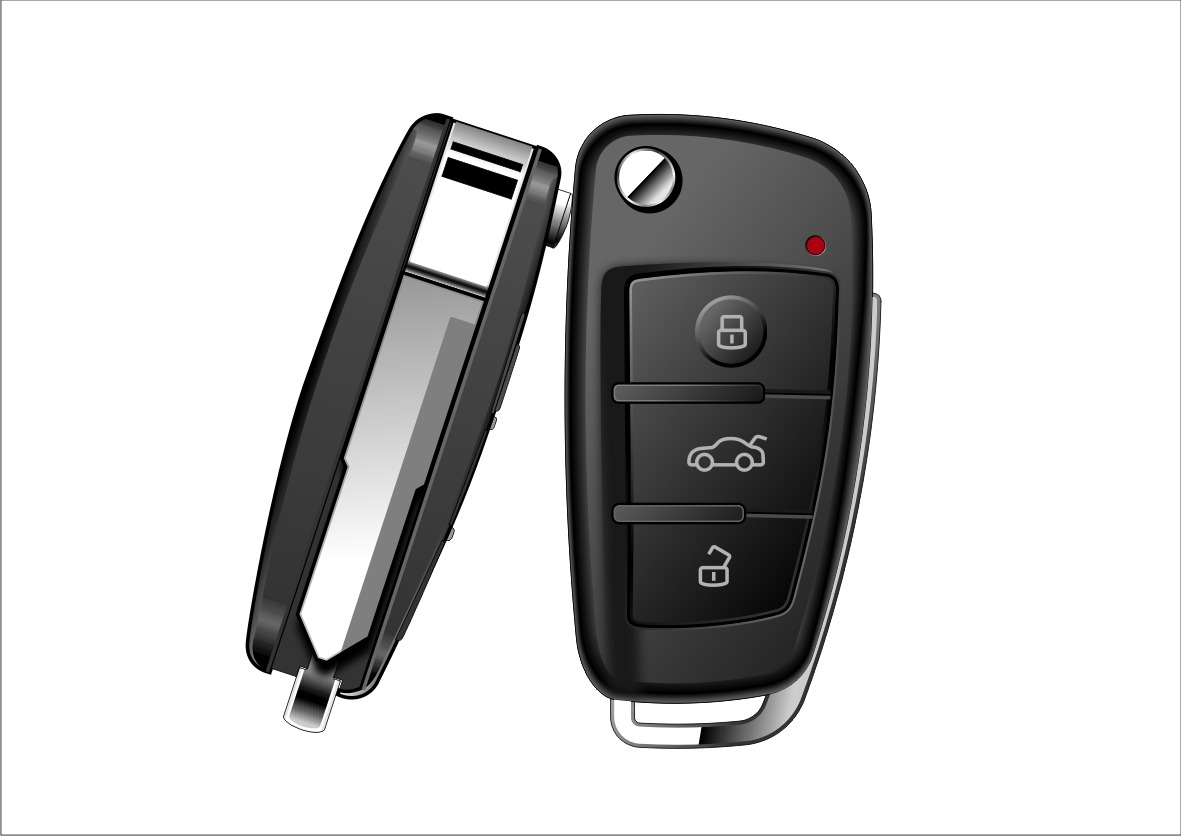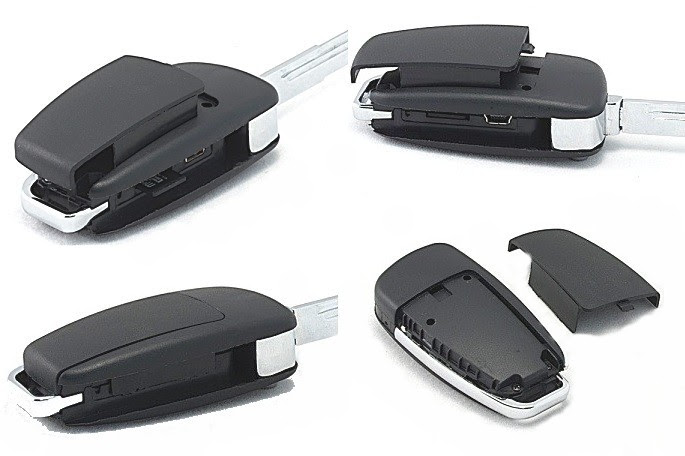 Package Contents:

1 X Carkey Camera
1 X USB Cable
1 X User Manual
1 X CD