WiFi 1080P HD No Glow IR Clock Spy Camera
WiFi 1080P HD No Glow IR Clock Spy Camera is one of the latest advances in covert Hi Tech security. This desk Clock is fully functional in every sense however built into the clock is a hidden high-resolution pinhole camera plus NO Glow IR (Infra Red) for night vision.
Put simply if you have some sort of home or office problem which could be related to theft, infidelity, someone snooping about then perhaps WiFi HD Clock Cam may well be the ideal surveillance solution for you.
This desk Clock is battery operated but can be plugged into a power point for longer term surveillance. If you have WiFi at the camera location, its free and easy to put the camera on WiFi, download the free App (we provide detailed and easy to read English instructions) and view the camera live on your mobile phone or PC.

If you have suspicions and need to know what is going on behind your back, at Hidden Camera Surveillance we have a wide range of options from which to choose. This particular spy cam has a built in WiFi module so to set up motion activated recording, first is necessary to download our free Iphone or Android mobile phone App.
Once you see the camera live on your phone, enter into the online setup and this allows the authorised user to change and set recording functions from anywhere and without the need to actually touch the camera. This can be carried out via LAN, another WiFi location or simply via mobile 3G.
Each camera will have the option to use your very own user name and password and this prevents any unauthorised access. Whilst camera is sitting on a local WiFi network no other person can access it. The Clock camera would only appear on a network as a long series of letters and numbers that has no reference to anything hidden and otherwise means nothing. So don't be concerned that some other person will know that a camera is sitting on a home or office WiFi network.
WiFi 1080P HD No Glow IR Clock Spy Camera supports an internal and concealed micro SD card up to 128GB capacity. Please note customers are most welcome to supply their own micro SD card but it's recommended that we supply when ordering. We only use selected brands and Class 10 or better. If the SD card is not up to standard, which can affect recording quality, please note this is not considered a warrant issue. Contact us if you have any concerns. We only supply up to 64GB micro SD cards.
What if I don't have WiFi available or not sure what to do?
If you don't have WiFi at the camera location have no WiFi understanding then perhaps this model Clock Camera is NOT for you. Hidden Camera Surveillance however does offer a wide range of other Non WiFi options. This same Clock Cam with No Glow IR is available without WiFi and looks exactly the same. Very easy to use and we will even set it up for you before delivery. It will do basically the same things as the WiFi except no remote access. To switch camera recording On/Off simply use the supplied wireless remote control but otherwise the recording quality is the same.
You can find more information on our standard non WiFi clock 1080P Spy Camera here http://www.hiddencamera.com.au/motion-activated-megapixel-spy-clock-camera-with-no-glow-ir-bundle
Can WiFi 1080P HD No Glow IR Clock Spy Camera Alert me if motion is detected?
Yes of course. Enter your email address and receive email alerts whenever motion is detected. This is an ideal "heads up" that the camera is detecting motion and whilst the camera is silently recording to the internal memory card, you can be live viewing and listening at the same time. Should you miss something then no problem just look at the SD card and remotely playback recordings direct from the internal memory card. Switch alerts off if you don't need the warnings. This feature is otherwise referred to as Push Notifications.
How does Motion Detection work?
Motion detection is simply an inbuilt algorithm wherein should the camera detect motion within its visual image zone; this is the trigger to record. In the camera setup it will ask you how long would you like to record i.e. a few seconds, 30 seconds, 1 minute or longer?
The setup will also ask you at what quality you would like to record say 1080P or 720P or lower. The higher the recording quality the more memory space it uses but you have the option. Furthermore you also have the option to set how fast you want to record. 30FPS (Frames Per Second) is real time although 12 FPS is half real time or about cartoon speed. A cartoon looks real enough but then only using memory at half speed. The camera can record even slower if preferred it all depends on what you need to see or record.
Can I Constantly Record even if there is No Motion?
Yes the HD 1080P Clock Cam can be set to constantly record should you choose to but we find this is often a waste of SD card space. It also means searching for activity takes considerable time, as users will need to sift through potentially hours of recording. To do that it might be wise to remove the SD card from the clock, connect the card to PC or MAC and playback your recordings using WMP or VLC play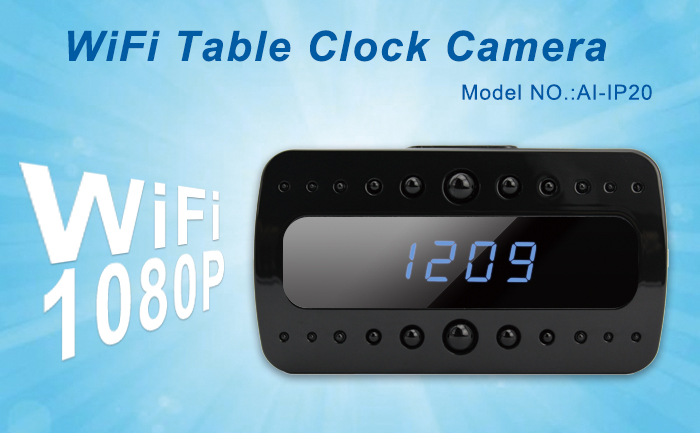 Can I remotely listen in to audio conversations from my mobile phone or PC?
It's a question often asked and rightly so. Yes you can listen in but do take into account it's not like listening to Skype conversation if we can use that as an analogy. Listening and/or viewing remote quality over LAN, P2P or 3G is largely governed by network upload and download speed.
The camera is of course recording audio and video to the SD card so there is nothing to stop you viewing or uploading a recorded video/audio clip to your mobile phone or PC. Once downloaded then the video and audio clip will be real time (if set to real time) although downloading a large video clip can take some time.
The short answer is yes you can listen in live and view live but the speed and quality is very much dependant on network speeds. HCS takes no responsibility for network performance or remote access issues. We will endeavour to assist where we can otherwise please consult an IT professional. In most instances that won't be necessary.
Tell me more about the Night Vision Recording?
As mentioned this HD Spy Clock Cam is supplied with black LED's. They basically look like part of the clock but actually illuminate a completely dark room with invisible IR. In other words at night you could be looking directly at the clock but all you would see is the red time display. You would not see any IR illumination but the camera can certainly see you and very clearly up to 6m away.
So the camera can record in complete darkness with no red glow sometimes common with other night vision cameras. In such situations the camera recording will auto set to B/W mode as colour cannot see IR but B/W can. If on the other hand a person was to switch the room light on and light was good then the camera will auto record in colour mode. IR's of course would naturally switch off completely.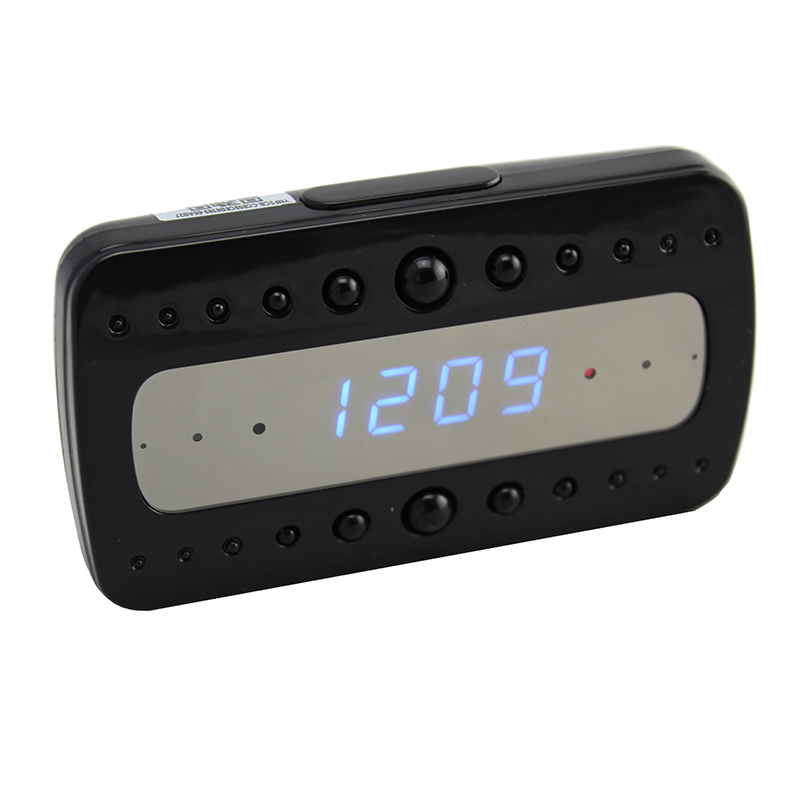 How easy is this camera to use?
It's actually quite simple once you get the hang of it. Connect the device to a power point and make sure that the WiFi router is on. Connect your mobile phone to WiFi but you may need to wait a few minutes for your phone to find the new device.
In the mean time install the free Pro Icam App. After a few minutes you should see that a new WiFi device has been found and this will just be long series of letters and numbers. It won't mention anything about a camera or a clock.
When you see the numbers go back to the App, press Add camera online, follow the prompts and you will see the camera view LIVE on your phone. After that its all a matter of how you want the camera set which is where our detailed instructions will come in very handy. We even have a Utube demo video link for those customers still not sure what to do.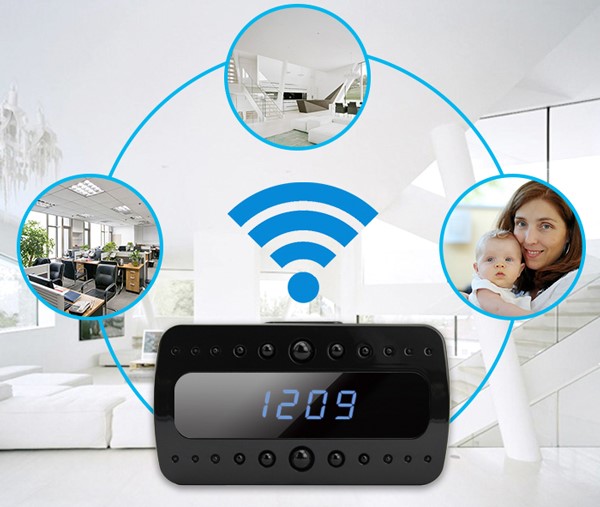 HD Clock Cam Specifications
5 Megapixel CMOS
WiFi and P2P + mobile phone 3/4G access
Video Resolution 1920 x1080
Photo Resolution 4032 x 3024
Super easy to use mobile phone QR code scan
Video format AVI
Frames 25 FPS (PAL) real time
Visual angle 90°
Night vision: 10 No Glow IR's for night vision
Motion detection Distance approx. 6m
Rechargeable Lithium Battery capacity 2400mA
Continuous recording time approx. 24 hours
Compressed format H.264
Memory Card up to 128 GB Class 1o or better
Player software VLCPlayer/SMPlayer
Computer O/S Windows or MAC OS X
Mobile phone compatibility Android/iOS
Web browser IE7 and above, Chrome, Firefox, Safari etc
Recording: Approx. 20MB/minute recording
Charge time About 4-5hours
Battery functional time approx. 1-2hours
Connect to power for long term recording (5V power adapter provided)