3G GPS Tracker with Audio & SOS
Live track your vehicle free on Google Maps for free anywhere and any time with a simple text command. That's right and why pay an expensive monthly or annual "rip off" subscription fee for a satellite service which is free to everyone anyway?
Forget about all you know and all the research headaches because here at Hidden Camera Surveillance we have the ultimate and most easy to use Satellite tracker you will ever see and is it packed with features. Lets not get too carried away with needing software and special Apps, paying fees and worst of all, trying to work out how the thing works. Most people simply give up because the instructions are too hard to follow and basically makes no sense with endless difficult to understand commands.
All you need is a 3/4G Voice and Text SIM card (NO DATA) and any Smart phone or Iphone etc. That's it nothing more than a cheap Pre Paid SIM is needed with no need to enter into a plan. A SIM card with unlimited text is ideal and perhaps some voice if you want to listen in but a SIM you can recharge from time to time is fundamentally all you need.
If ever you have dealt with and International online business, be prepared to accept poorly written instructions with little to no technical support or advice. So what you think you have saved in cost will ultimately cost you big time in headaches and lack of product support. if you order from Hidden Camera Surveillance, we provide written and easy to understand "step by step" instructions. Its easy to follow the instructions provided but do remember, its only available from us otherwise good luck....you will need it.

Mini 3/4G GPS Tracker
Product Number GPS-02
What exactly is a GPS Tracker and how does it work?

A GPS Tracking System or a GPS Tracker is a device (as pictured below) which uses the FREE Global Positing System "GPS" satellites to determine the device exact location which could be any point on Earth. The device location is the relayed to a map (such as Google maps) forming the GPS we know today. GPS is so accurate that we can see exactly where the device is located (including the actual street and number address) to within a few metres.
So popular is GPS that virtually all Taxies and Uber drivers, truck drivers, even your mobile phone navigation relies upon GPS coordinates to determine location, distance, speed, heading and estimated time of arrival based on vehicle speed. In other words Global GPS positioning, once used by Military only is now available to the world but it doesn't need to be complicated and nor should it be.
The Tracker you can see pictured is about the size of a matchbox so it's really small. This mini GPS Tracker is supplied with 2 x Lithium-Ion Rechargeable batteries and each battery can keep the tracker functioning for weeks on one charge depending on the number of text activations sent and received. Just like a mobile phone if the phone is simply on and not being used then the battery life is much longer compared to when being used. The GPS tracker however can be connected to the vehicle battery quite simply so its basically always on no matter what.
For short term covert surveillance, the tracker could be placed beneath the drivers seat, in a glove box or boot (even with a magnet beneath the car) etc where its not seen. The tracker makes no sound or noise so don't worry about that.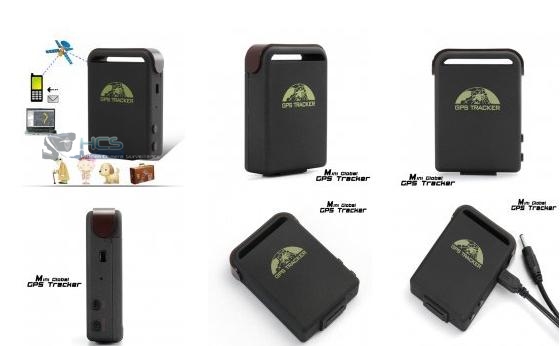 How does it work and what do I need?
As mentioned before, all you need is a mobile phone with free Google Maps installed and a spare pre-paid Voice and Text only SIM card. You do NOT need any DATA on the SIM card and the SIM must be compatibe with UNLOCKED devices. Telstra or Optus is fine but you also also need to ensure that no SIM password or PUK code is enabled. Most SIM cards are compatible with unlocked devices but if not sure do ask as some SIM cards may only be compatible with locked devices and we don't want that.
Basically slot your activated SIM card (Plan or Pre Paid) into the tracker and then slot the charged lithium battery into the GPS Tracker unit before closing the cover. There are no ON/OFF buttons. Once you slot the battery and SIM in the device is armed and active.
From your mobile phone send a text command to the tracker SIM card number. The command is as simple as "begin123456" and after 30 seconds or so the Tracker SIM will reply to your mobile phone with a text which reads "begin" So the tracker now knows that your mobile phone number is the one it should respond to. By sending a command to the tracker in the first place, the GPS tracker is being programmed to respond to that number which can be altered at any time.
The GPS Tracker basically reacts to easy text commands. The internal Tracker SIM is a mobile number after all so just as you would send a text to a friend and wait for a reply, the tracker is more reliable in the sense that it will reply to you within seconds. The text reply looks like a longitude and lattitude code which perhaps means nothing to most but when you finger click on that code, Google maps knows exactly what it is and will depict the exact GPS coordinates as an actual street number, street name and suburb address.
Think of this as you would entering a navigation address into your Iphone Google Map App. You enter the destination address (Google maps already knows where you are) press START and maps will show you the shortest route from you to the destination. Think of the GPS tracker as the destination but a destination that moves. So whenever you send a text command to the tracker with a "where are you" it will reply to you with a "here I am"
I think my spouse is cheating and i want to know where he is
By way of a simple example, lets say you covertly planted this GPS Tracker in the glove box or under the seat of you're spouses car. God forbid that you should want or even need to know where that SOB is at any given time but he/she is not answering the phone, getting home late, perhaps a few drinks, comes home smelling of nice perfume (him too) who knows but you really feel something is going on or something is not right in the relationship. Remember I'm just using your spouse an example, it could of course be your own child, the elderly or work colleagues it doesn't matter. The question is if you want or need to know what's going on, do you have a better solution?
Other than simply sending a text to the GPS tracker whenever you feel inclined, you will know exactly where the car is if nothing else. Would you like to listen in? No problem simply send a text command to the tracker and instantly you have a covert listening device. Its not a 2 way conversation its just you discreetly listening. in terms of audio quality think of it like this. if you were having a telephone conversation with someone and that person put the phone down but without disconnecting the call, at your end you would still be able to hear the conversation surrounding the phone and this is no different, it would sound about the same.
Perhaps there is no conversation in the car but its on the move. You can send another text command to the tracker to say send me the tracker location every 15 minutes for the next 2 hours. That replies could also be more or less frequent and of longer duration (even over 24 hours if you like) but every 15 minutes you will see exactly where the car is located. It may be that the car is stationary for a long period of time so send another command to the tracker and tell it to text you as soon as the vehicle is in motion again. Impressive.... you bet and there is much more it can do and all for the cost of text message. Why pay for a GPS tracking service? It doesn't make sense and what a waste of money when this little beauty can do it all.
What other functions does the GPS Tracker have?

Its a good question and worth knowing. The GPS-02 Tracker is packed full of features and functions all of which can be activated or deactivated with a simple text command.
Obtain absolute street and suburb address

Voice or Audio Surveillance

Internal SD card memory storage

Shock sensor alert

Geo Fencing which basically means if the vehicle moves away from a certain zone you are immediately alerted.

Motion or vehicle movement alert

Over-speed alert

SOS panic Alert button

Low battery alert

Status checking

Time setting
This unit uses an ARM7 Processor unlike SurfChip previous versions which are inferior and slower
Charging indicator
Reports battery condition, number of satellites, altitude and speed etc
In auto tracking will not send new coordinates if the moving distance is less than 50 meters (reduces text cost & power ).
Cell ID positioning
Text commands and text acknowledgement
The minimum positioning interval is 5 seconds
Standby time approximately 80 hours
Google map GPS positioning on most smart phones
SD card to store the coordinates if the mobile signal is lost

Monitor Mode (Voice or audio Surveillance)
Text monitor+password to enable Voice listen in or monitor mode. The Tracker will respond with "monitor ok"
In this mode the authorized user/s may simply call the GPS Tracker SIM and listen in. The tracker emits no sound or warning whatsoever and does not ring

as such.

Alter the password
Authorisation number
Auto Tracking mode
Real time Polling
Geo Fencing
Motion or Movement text alert
Over-speed Alert
IMEI status check
Time Zone
SMS distress or Emergency button
Google Map Link
Low Battery Alert
3G ID
SD card slot and recording
Features
Compact and Easy to use
Silently listen in Monitoring Mode
GPRS and 3/4G + Internet application
Global coverage with quad-band GSM frequency
Multiple function via SMS commands
SOS Function

Specifications
Mini Global GPS Tracker
GSM Frequency: 850 / 900 / 1800 / 1900
GSM/GPRS Module: ARM7 Processor
GPS Sensitivity: -159 dBM
GPS Accuracy: 5m
Time to First Fix
-Cold status: 45s
-Warm status: 35s
-Hot status: 1s
GPS Chip: ARM7 Processor
Network: GSM / GPRS
Battery: Rechargeable 3.7 V 1000 mAh Li-ion Battery
Battery life: 80 Hours standby
Working Temperature: -20 to 55
Humidity: 5% to 95% non-condensing
Altitude Limit: 18,000 meters (60,000 feet) max
Velocity Limit: 515 meters/second (1000 knots) max
Acceleration Limit: Less than 4g
Dimension: 64 (L) x 46 (W) x 17 (H) mm
Weight: 50 g
Package Contents:
1x Mini Global GPS Tracker
1x Battery Charger
1x Power Adaptor
2 x Batteries
1x Battery Cover with Magnet
1 x Waterproof casing
1x Software CD
1x English Manual