Ladies Clutch Bag Hidden Camera with 8GB Memory
This is a unique Ladies Handbag with leopard print conceals a covert pinhole colour camera with audio plus a wireless remote control used to arm and disarm the recorder.

Ladies Clutch Bag Hidden Camera with 8GB Memory:
Model: LBAG-VE08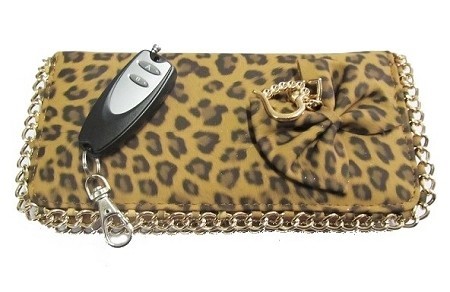 This ladies Clutch Bag is ideal for hand held covert surveillance. It conceals a built in colour pinhole camera with audio, an internal mini rechargeable lithium battery and a wireless remote control that can be carried within the bag or on your person.
The wireless remote control switches the recorder on or off as you choose and the high-resolution video and audio is stored to internal flash memory. An SD card is not required although the covert camera can record for many hours.
Inside the actual bag is an on/off switch. By simply switching the camera to ON a small LED will illuminate inside the clutch bag so you know its activated. Press the arm button on the remote control and the LED will blink a few times before going off so it's more discreet.
Specifications
Video Format: AVI
Resolution: 640x480 @ 25FPS or real time
Video file size: >500KB per min
Voice recording: Yes
Recording mode: Continuous recording until memory is full or manually off
Internal memory: Yes
Memory: 8GB
Adaptor type: 5V USB adaptor charging cable
Battery type: Lithium-ion
Driver: No need for drivers
Package Contents
1 x 4GB Spy Bag
1 x Remote Controller
1 x USB Cable/ Charger