Download full PDF here

The <span >Intruder Cam is a highly professional motion sensing camera built into an alarm motion sensor or PIR as it is commonly known. This is a battery operated or mains powered Stand Alone motion activated Digital Recorder which is powerful yet very discreet surveillance and security camera.

Intruder Camera can also be interfaced into basically any new or existing any alarm system as it is an active PIR but let's face it, if an alarm is triggered these days, no one takes much notice anyway. If someone has entered a zone without your permission then this camera will silently pick up that movement (that's what it is designed to do) and capture high quality time and date stamped JPEG pictures. All pictures are digitally watermarked for authenticity and an internal 2GB memory card can store up to 65,000 photos.

Another great feature of this unique CCTV security camera is the ability to conceal or hide the camera if necessary for both indoor and outdoor surveillance. With our optional weather proof housings, Intruder Cam can be mounted in anywhere and in anything including but not limited to;
Length of scrap timber (ideal for builders)
Rubbish bins
Wall or ceiling mounted electrical switches
Letter boxes
Steel bollards
See some of the pictures and ideas below

The Intruder Cam is the state of the art, low power, digital surveillance camera that captures high-resolution images when motion is detected within its field of view. The images are stored on a removable memory card for easy viewing on a computer or PDA (as easy as your digital camera). The camera can be configured to just about any application to suit your needs. Depending on the selected resolution and memory card size, the camera can store up to 65,000 images on a 2GB SD memory card.

The Intruder Cam can function both as a Security Camera and Standalone Surveillance Camera. When used as a standalone unit, the camera can be powered by either an internal high capacity (HC) battery for up to nine weeks, an internal backup battery for up to two weeks, or an external mains plug pack. Where there is no power a mini solar panel can be connected to keep the battery permanently recharged. The Intruder Cam is also available with an optional weather proof or covert housing as featured below and in many cases, if using the a larger housing, it will also accommodate our Extra High Capacity rechargeable battery for up to 6 months standby time.

A remote control enables you to capture images on command either whenever motion is detected, even time lapse as well as arm and disarm the camera. It is ideal for monitoring your office, Building site, Houses, Commercial properties etc. It can also be used as a security camera for detecting intruders that may enter your property, your home, office or retail shop, by simply connecting it to existing alarm systems.
Need to use the camera outdoors? No problem just ask for our optional outdoor weather proof housing or see some of our Outdoor External Camera range with built in Infra red for night vision.
<span >What makes the Intruder Cam different to other devices?
The Intruder Cam is not the cheapest battery operated security camera available and nor should it be. This surveillance camera is designed for professional use. In most instances digital pictures can be edited or altered to the point where its possible to place another person's head on someone else's shoulders. A Digital Watermark basically means that the picture can be proven to be both authentic and unaltered, more or less like like determining whether currency is counterfeit or not.
The Intruder Cam has inbuilt Digital Watermarking as standard.It is always wise to check local laws in your state or territory regarding covert surveillance or talk to your solicitor but lets assume that you have captured the identity of a would be thief in action. You may choose to use the evidence gathered to potentially prosecute however, we don't offer legal advice. We suggest you confer with a lawyer beforehand although it stands to reason that a camera with a Digital Watermark would be the better alternative to one without it under certain circumstances. <span > <span ><span >

Will Intruder Cam record a number Plate day or night?
<span >In most instances yes the Intruder Cam is able to record a number plate however, the ability to do that rests on certain criteria including how fast the vehicle is travelling (a slow point such as a cattle grid, speed hump, gate etc) is better suited to mount our camera. By day if the vehicle is not travelling too quickly then aiming the surveillance camera at either the front or rear of the approaching or leaving vehicle is fine. Camera angle and vehicle speed all play a role and must be taken into consideration.

By night this can be quite different. Few cameras can be aimed at the front of a vehicle with headlights on and be able to see the number plate. We do have CCTV cameras available called Number Plate Recognition Cameras and they do have the ability to see a number plate at night with headlights on or off. The Intruder Cam is not designed specifically for that purpose.

If on the other hand if the Intruder Cam was aimed at the REAR of vehicle with tail lights on and the vehicle was travelling slow paased the camera or better still stationary near the camera, then it is quite possible to be able to record a number plate. The small bulb illuminating the number plate is normally sufficient for the Intruder Cam to see but cannot be guaranteed. Vision will differ from vehicle to vehicle.
<span >Other features include
The ability to record when motion is detected as fast as 1 image per second
Up to 65,000 images one a 2GB SD memory card
The ability to set image quality and time between each captured picture thus saving memory & battery capacity
Time and Date Stamp on each image
Wireless remote control to arm or disarm at any time (no need to touch the camera)
Scheduled recording which means the camera can be preset to arm and disarm at any times that you choose
Rechargeable battery from 6 weeks to 6 months in standby mode
Option to order Intruder Cam with longer range lens
Can be solar powered
External Relay can be used to trigger other devices to arm such as lights etc when motion is detected
Can be used in an elevator or lift see Elevator Cam
Ideal for builders as this camera can be placed into any old piece of timber laying around a building site
Inside a steel bollard is also popular specially for councils and National Parks & Wildlife
Can replace a PIR detector on your existing Alarm system.
Easy installation and setup.
When an intruder triggers the alarm, a series of photos are taken of the scene and stored to a memory card.
False alarms are reduced by a fully integrated and compact Motion Detector which is highly immune to interference
A "motion detector" only, is available in the same plastic case for visual continuity in alarm systems.
The high resolution colour photographs assist Police in recovering valuables.
A digital watermark or signature including camera ID, within each image for integrity verification.
<span >Are there many ways that I can hide a camera such as this so people can't find it?
Absolutely, take a look at the pictures below and these are just a few examples of the ingenious ideas that our customers have used to great affect. Thieves are cunning as well all know so the key is to be smarter than the average crook. We constantly hear stories from customers concerning unknown or unidentified people (sometimes they are known) trespassing onto property to steal or poison plants, steal tools from sheds, rob farmers of fuel, stealing cattle, being in unauthorised areas whether indoors or outdoors and so the list goes on. Whatever your problem, at Hidden Camera Surveillance we have a solution.
<span >
Can Intruder Cam record a number Plate specially at night?
<span >Intruder Cam inside a wheelie bin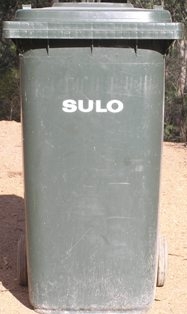 Disguised as an Air Freshener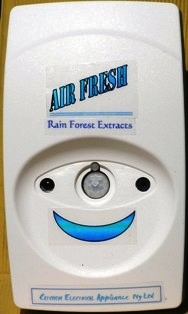 Inside a look fake Power Box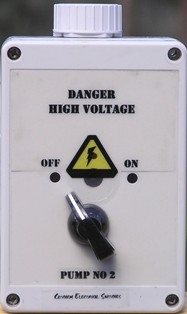 What about a typical Letterbox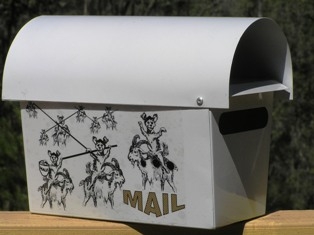 Hidden inside a Book Binder


Garden Light


Outdoor Weatherproof Case- same as above but without the illusion


Power Junction Box - can take 4 cameras or more in all directions. This type of Power Box is seen basically everywhere and makes an ideal hiding place for our Intruder Cameras. We love this idea as the Junction Box can house multiple cameras, including several batteries if needed and don't forget, our cameras are not just battery operated, they also support 240V power as Hidden Camera Surveillance provides a 9V power supply AND BATTERY with every kit.