Watch Spy Camera Waterproof 8GB
WTC-01 Waterproof Watch Spy Camera with 8GB of internal memory. Record HD video and audio or take still pictures then playback and save recordings direct to any PC or MAC.
As an added bonus for Hidden Camera Surveillance purchasing customers only, we supply our own English User Manual which is easy to understand unlike other user manuals which are poorly written, difficult to understand and with text so small a magnifying glass is required. We actually re write the instructions in easy to understand English but only for our customers.

HD Watch Spy Camera with 8GB Memory

Product Number: WTC-01
This high quality diving watch is fully functional but is also has a hidden spy colour camera built in. Whilst the watch looks like a divers watch in every sense, please note it is NOT designed for underwater use and this is most important. It's a Spy Camera first and a watch second as it's been modified and therefore cannot be guaranteed waterproof. It is however weatherproof so can be used outdoors and unlikely to be affected by water splashing as such.
A spy camera such as this is ideal as a Body Worn Camera. If you have bullying concerns, perhaps an aggressive neighbour or in some instances. custody issues then a covert spy camera such as this could be ideal and have some peace of mind when secret recordings within the watch memory are replayed on PC or MAC.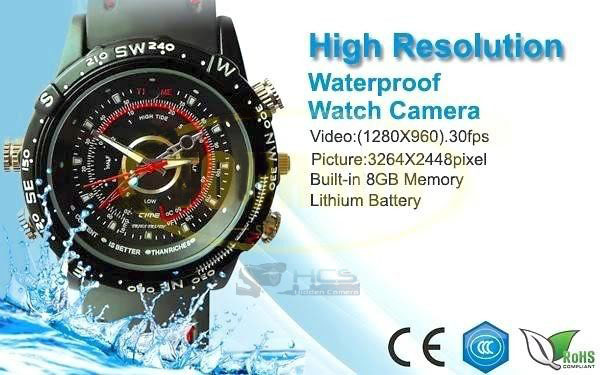 Features
Sports and fashionable design
Silently records video with audio simultaneously
Record audio only
PC camera function
Hidden camera with 8GB memory
High definition recorder and still pics up to 5MP
Play recorded and saved aideo directly to any computer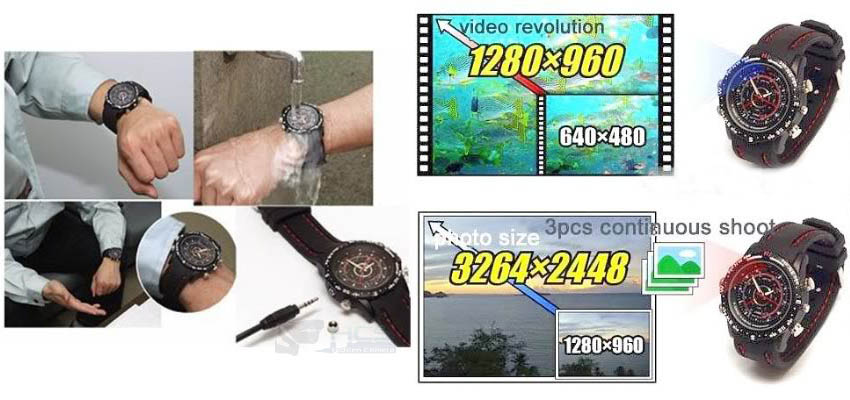 Video resolution: 1280 x 960
Video Format: AVI
Video frame rate: 30FPS
Photo format: JPEG, JPG
Photo size: 3264 x 2448
Image Aspect: 4:3
Picture size: 5.0MP
Battery capacity: 280mAh Li-Battery for about 1.5hrs video recording
Interface type: USB port
Memory: Built-in 8GB
Battery type : High-capacity polymer lithium
Charging voltage: DC-5V
Supported system: Windows 2000/XP/2003/Vista/Win7; Linux;Mac OS 10.4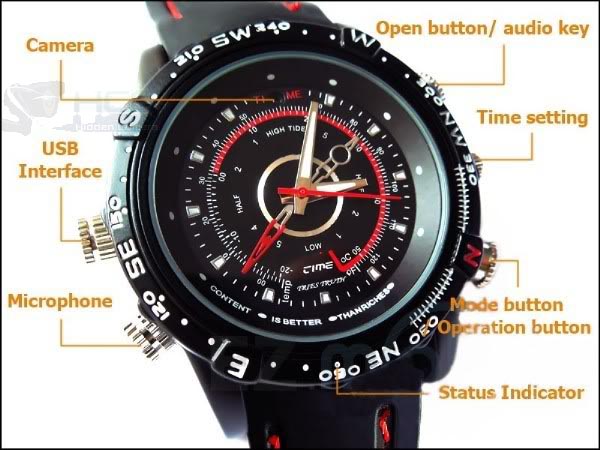 Please Note!

Whilst the design of this Watch Spy Camera indicates that its waterproof, please note as the watch has been modified to accommodate a pinhole spy camera and micro audio microphone, it must NOT be worn swimiing, diving or for any purpose where water is likely to affect the camera. In circumstances where the device has been affected by water it will NOT be covered by the 12 months many manufacturer warranty despite images to the contrary. This is a camera first and a watch second. If the watch stops keeping time, you will need to replace the internal battery, same as any watch and this too is not a warranty item.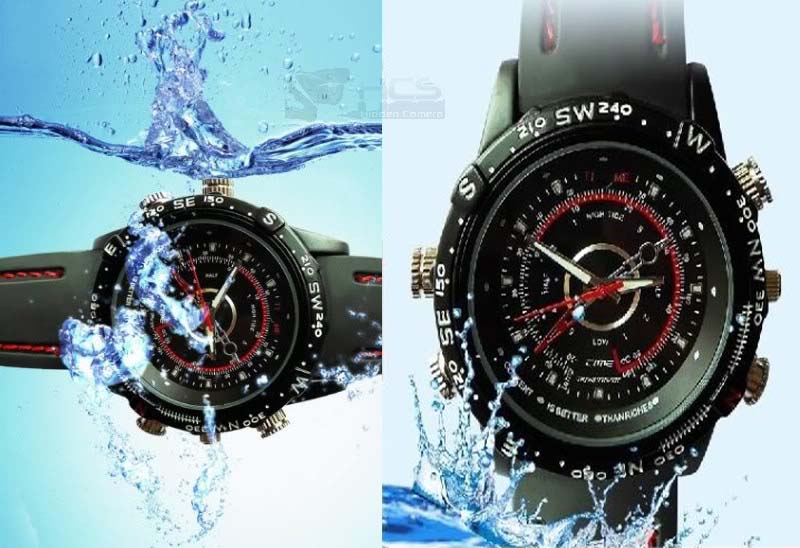 Package Contents

1 x Sport Watch DVR
1 x USB Cable
1 x Power Adaptor Charger
1 x User Manual