1080P Motion Detection Spy Pen Cam
This Motion Detection Spy Pen is a high-definition video & audio recorder. At the touch of a button this great little spy camera can be set to constantly record or set to Motion Activated recording. The internal battery is rechargable via PC USB although we do provide a cigarette lighter adapter for on the go chrging at no extra cost.
Please note that is NOT an actual writing pen. Its designed to look like a pen but its a covert camera first and foremost. This 1080P HD Pen Spy Camera requires a micor SD card for recording. Micor SD cards are optional and can be ordered though Hidden Camera Surveillance or customers may provide their own. It is however fundamentally important to understand that any device which records in HD resolutions requires a Class 10 or better SD card. HCS offers just that and up to 32GB.

Please note even though the Pen Spy Cam supports Motion activated recording, it doesn't necessarily mean that you can expect long longer recording battery capacity. Even though the camera is set to motion activated recording, the Pen Cam is still active and therefore using battery power.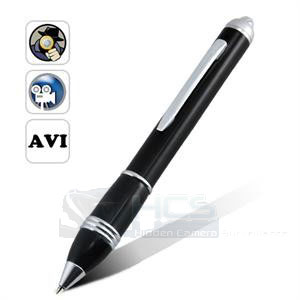 Motion Detection Spy Pen Cam Audio/Video Recorder
Product Reference PEN-02
Slim Pen Camera with Video & High quality Audio Recording plus Motion Detection recording.
A Micro SD Card is optional although we do provide a 12V Car cigarette lighter adapter charger with each camera at no extra cost.
Regular charging from any PC USB interface is fine. Both Mac and PC compatible.
Internal battery capacity is around 1-2 hours of use before needing recharge. At 1080P HD recording it will use about 6GB of memory per hour of recording
All recordingd are time and date stamped. With all orders HCS will provide an easy to use and understand manual and we explain how to easily set the recording time and date stamp.
How do I playback recordings?
There are 2 options. Connect the Pen to any PC or MAC and using Windows Media Player or VLC, playback recordings direct from the SD card.
The other option is to remove the SD card from the Pen Cam then slot the SD card into your PC or Mac. Sometimes a USB SD card reader is required although many computers nowadays come with an SD card reader interface anyway. Don't worry we can assist you.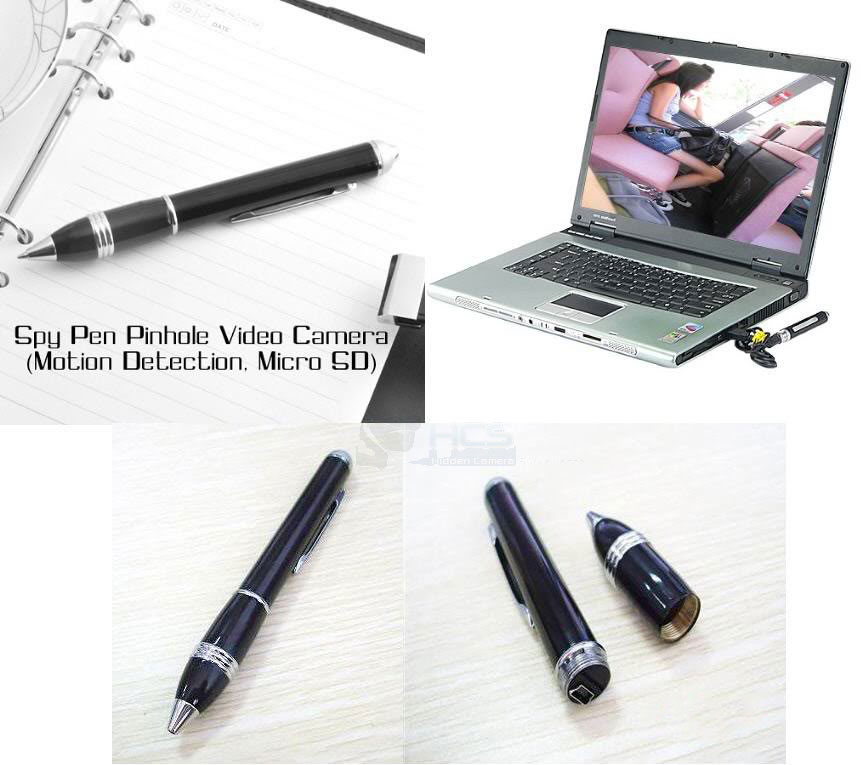 Main Functions
Audio/video Recording
Motion Detection
Micro SD card recording (Class 10 or better recommended)



Specifications
Video Format:AVI
Video Resolution: 1280 x 960 @ 30fps
Video Encoding: M-JPEG
Sound Sample Rate: 24KHZ
Media Player Software: Attached Software or Windows Media Player or VLC etc
Aspect: 4:3 ratio
Supported System: Windows 2000/XP/2003/Vista; Mac10.4 above; Linux
Charge Voltage: DC 5V
Interface: Standard USB
Storage Type: Micro SD card
Battery: High Capacity Li Polymer

Package Content:
1 x Motion detect pen camera recorder
1 x USB lead
1 x Cigarette lighter adapter
1 x Instruction Manual
1 x Softare supplied for older PC's other its not required.