1080P Stainless Watch Spy Camera 16GB
This WTC-07 Waterproof HD 1080P Watch Spy Camera has 16GB of internal memory. One button press records high quality video and outstanding audio until such time as the stop button is pressed. This very nice looking and fully functional stainless watch makes it ideal as a body worn covert video and audio voice recorder and a normal everyday watch. There are no give away flashing lights or noises.
Very simple to operate, if you have issues with "bullying" or an abusive neighbour etc and you need evidence for Police etc this could be exactly what you are looking for. Often the instructions supplied with such cameras are poorly written and difficult to understand however, for our customers only, Hidden Camera Surveilolance provides an easy to use and read English manual.

Product Number: WTC-07
1080P HD Waterproof Watch Spy Camera 16GB
Model No: WCH-14A-16GB
Stylish fully functional Stainless Watch Spy Camera with HD Audio & Video Recording plus 16GB of internal memory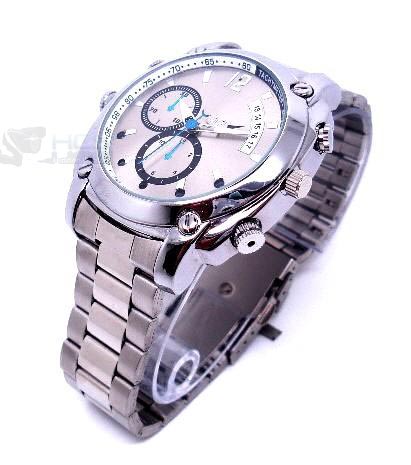 What can this watch do?
First of all this is a fully functional watch with an internal lithium battery so just like any other watch, if it stops keeping time, the internal battery will need to be replaced. The spy camera built into this watch is also battery powered but is seperate to the watch. It needs to be recharged before and after use and from flat, takes about 90 minutes to recharge. We provide a 5V USB power supply adapter with the watch for that purpose.
The actual camera pinhole lens is near impossible to see and will not be detected which is most important. With the battery fully charged, by simply pressing one button on the side of the watch (see our instructions) a blue LED will illuminate for a few seconds, flash 3 times (wil not be seen by anyone other than the person wearing it) and then the LED will go off completely. This shows the user that the camera was correctly entered into recording mode but at the same time, very discreet to say the least.

Wearing the watch cam at about waste level and with 12 o'clock facing down, the recording will be correct way up when viewed. In other words the camera lens is designed in such a way that whilst being worn correctly, it will record so that its not upside down if that makes sense. Simply press the same button for a few seconds to STOP recording.
Other features include IR or night vision recording. This Watch Hidden Camera supports a tiny night vision button which greatly assists the camera to record video in low light situations. Whilst the watch itself is waterproof to 3M, we recomend that the watch is NOT worn whilst swimming or diving. Remember this watch has been modified and whilst it's waterproof, it may not be 100% waterproof after the spy camera modification. If the watch becomes affected by water it will not be covered by its 12 months warranty.
With 16GB of internal memory, at 1080P recording quality expect about 4 hours of recording before the memory is full. The idea is to connect the watch camera to your PC or MAC before that 4 hours to view recordings, save any needed video recordings to PC and then delete those recordings from the watch memory. By doing so that will free up more recording space for the next recording.
This watch camera also supports the ability to take high resolution still pictures rather than video if required.
Features
High resolution Full 1080P watch Spy Camera
Night Vision Function
Weatherproof
Video & Audio recorder with real time watch display
HD PC webcam function
Built in 16GB Memory

Specifications
Video resolution: 1920 x 1080P
Video format: AVI
Video frame rate: 30 fps
Photo resolution: 12 Mega pixels
Picture: 4032 x 3024
View Angle: 90 degrees
Memory: Built-in 16GB
Recording time: 4GB/hour
Battery power: 380mAh
Duration of Charging: 1.5hours
Power Consumption: 380mAh/3.7V(Maximum)
Storage Temperature: -10~70 degree
Operating Temperature: -10~60 degree
Support System Windows me/2000/XP/2003/vista/7, Mac OS 10.4 and Linux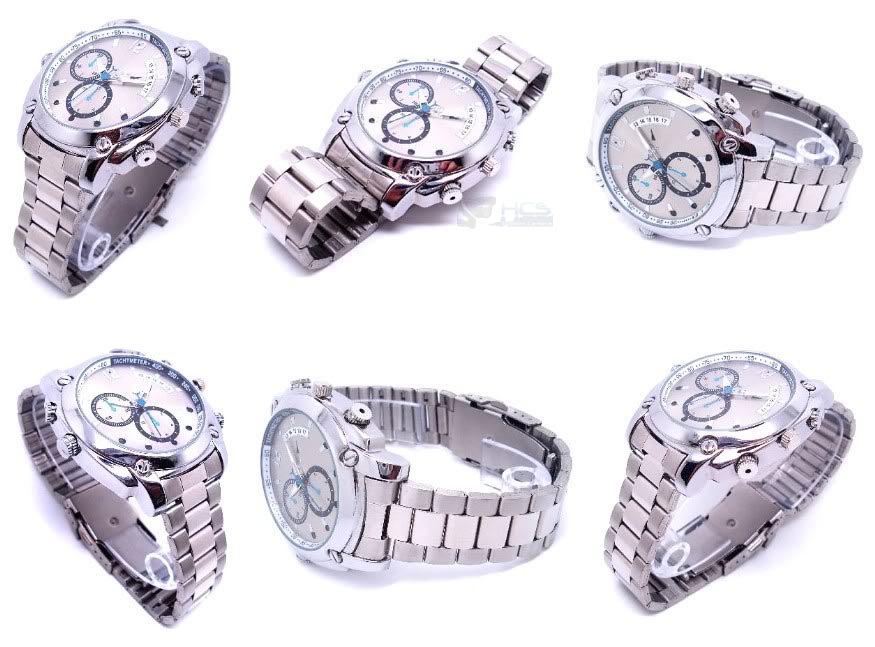 1 x Night Vision Watch Camera
1 x USB Cable
1 x Power Adapter
1 x Manual