720P LED Bulb Spy Camera with Motion Detection Recording
LED Bulb Spy Camera with 720P Motion Detection Recording. That's right the ideal spy camera built into a functional LED Light bulb and NO batteries required. This is an E27 or Edison screw type light fitting that can be supplied with an optional bayonet fitting if preferred so typical in most households except this is no ordinary light bulb. It contains a very high resolution camera, with outstanding audio and video quality and a micro SD card slot for up to 32GB (optional) memory capacity.
Simply a matter of inserting the SD card into the side of the bulb, screw it into the light fitting, switch power ON then with the supplied wireless remote control, arm or disarm motion detection or constant recording as you choose. However, it's much more advanced that that! Once screwed into a light fitting with power on, the wireless remote control allows users to choose IR or LED for night vision. In other words provided the light switch is ON, the camera can see and record at night using IR so its not visible as such but at the touch of a button on the remote, the LED Light can be illuminated. Whenever any person moves in view of the bulb camera, it will silently record and remember, as the light is on, absolutely ideal for night vision as well.

LED Bulb Spy Camera 720P Motion Detection Recording
If using a typical ceiling light fitting, yes you will have a vertical view at about 65 degrees wide so that may not suit all but if fitted into something like a desk-lamp where the angle can be rotated in various directions, this will make all the difference. We can even supply bulb extensions where the bulb can be fitted into a ceiling but the bulb will protrude allowing for it to be rotated and angled in various directions but the point is, there are mounting options. Note the optional light fitting extension pictured below.
At Hidden Camera Surveillance we have a wide range of spy camera and IP or analogue CCTV (not hidden) but to be quite frank, in terms of what this camera can do, the quality of the video and audio, how easy it is to use (setup 2 minutes and its done) I don't think I have ever seen anything like it before. From the customer's point of view, if you have some sort of concern and whether its a nanny issue, home office etc it really doesn't matter. Pop a high quality SD card into the side of the bulb where its completely out of view and concealed (we can supply 8-32GB) screw it into a light fitting and its basically done. Aim the remote at the bulb with power on, arm motion detection recording or constant recording or still pics if you like but for all intents and purposes, no one really looks at light bulbs do they? Even if they did its very unlikely that any difference would be noticed but that's the thing about light bulbs, specially with a light ON. If the light is OFF the camera can still be off and in the dark, again who would ever notice?
In fact this camera is SO easy to use, simply pop it in or out of a light socket whenever you choose. To playback recording, again very easy. Remove the SD card and with the supplied USB card reader, slide the SD card into the reader and slor the reader into a PC or MAC USB. Open the SD card on your computer to see a list of AVI video files. Right click on any video file using either VLC (www.vlc.com) or Windows Media Player etc and playback the recording in real time along with audio. If you decide to keep the recording, save it to PC otherwise leave it on the SD card, put it back into the camera and when the SD card is full, it will auto over write from the earliest date.
IN 720P mode it will use about 2GB of memory per 30 minutes so 4GB/hour. With a 32GB SD card that's about 8 hours of CONSTANT recording but remember, its not necessary to constantly record. It much better to use the motion detection feature so its only recording when there is motion and that means a much slower recording rate as no one will be moving about in the same area for 8 hours.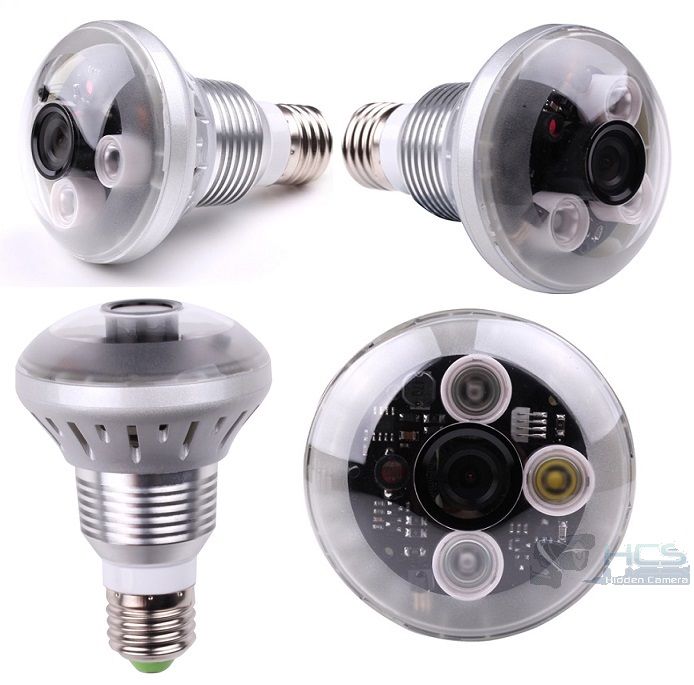 Functions
Motion detection or constant Video recording with excellent audio
IR Night Vision
Real LED light Bulb Function
Supplied with remote control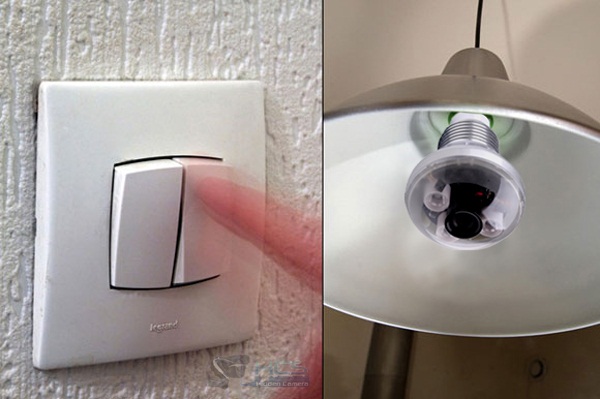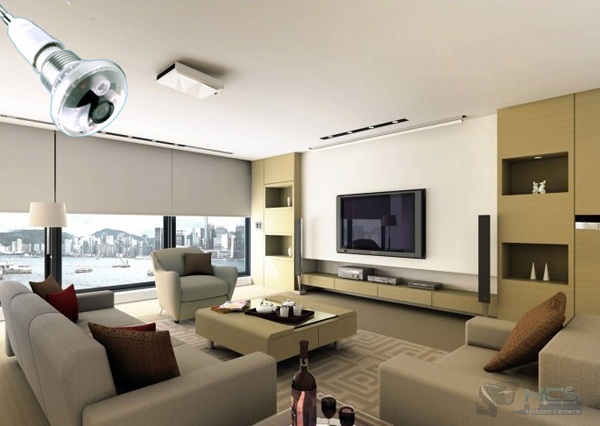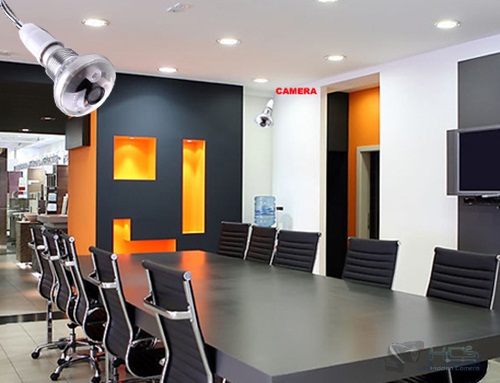 Specifications
HD 720P IR Camera (Bulb Type Camera)
Has LED Light function if IR is not needed so works like any other light
H.264 video compression
5 Million Pixel HD Camera
1/4 CMOS image Sensor
3.6mm Lens
Camera Visual Angle 90°
1280 x720P(HD)/VGA 640*480(VGA)Resolution
1600 x 1200 still picture Image rresolution
Built-in microphone (Synchronized Recording of Audio and Video) Microphone
Micro-SD Card (TF Card) 2GB-32GB. 30mbps speed memory cards are recommended (not included)
Memory Consumption varies along according to the recording quality
Mainstream media playing applications,player software supplied or use VLC a free player
Third Generation Infrared Array Lamps (850nm ) / IR LED lights
3W White Light Flood Lamp
Night Visual Range 1-15m
Motion Detecting Range 0-8m
Minimum Illustration 0 Lux (infrared on), 0.5 Lux (infrared off)
E27(standard bulb socket) Power Port.
AC110V-250V Input Voltage
5W power
Product Dimension 108mm Height x 72mm Diameter
Unit Weight 130g
-20°C ~ 75°C working temperature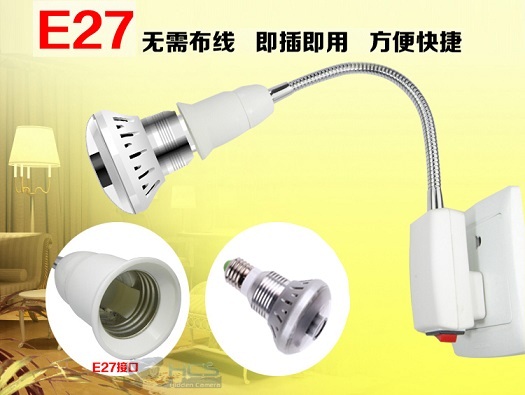 Default Factory Setting
Parameter/Function: Factory Defaults
Video Format: AVI(H.264)
Real-time Video: a file (HD 1280 x 720P) saved every 10 minutes per file (VGA 640*480) saved every 30 minutes
Motion Detecting Video: a file (HD 1280 x720P) saved every 2 minutes/ afile (VGA 640*480) saved every 5 minutes
Video Mode: Real-time Video(factory default) /Motion Detecting (selectable)
Resolution: HD 1280 x 720P (factory default) VGA 640 x 480(selectable)
With or without Audio: Yes (factory default) No(selectable)
Recycle SD Storage: Yes(factory default) or selectable
Indicator State: ON (factory default) OFF selectable
Time Watermark to Video: Yes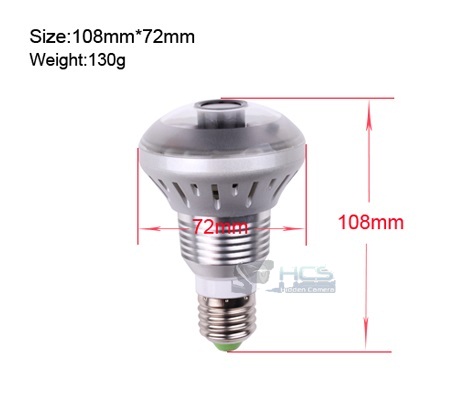 Package Contents:
1 x IR Bulb Camera
1 x Remote Controller
1 x User Manual
1 x CD
1 x Card Reader