3/4G HD Solar Security Camera Solutions
Please don't order online contact us for pricing options. Discuss options and your requirements first and then ask to see an online LIVE camera demonstration. Just be in front of your PC or MAC no software needed.

Do you have a need for CCTV security camera at a remote location but have no power or Internet on site? Perhaps running cables is out of the question or too costly, have little or no technical knowledge (specially IT) and other security companies simply don't know what to do? Then look no further because Hidden Camera Surveillance has the ultimate Solar security camera solution which is brilliant, extremely cost effective and all Australian owned and designed.
3G/4G HD Solar Cam only needs to be mounted to a sturdy pole or post. The Solar 3G Security Camera immediately becomes active as soon as you're 3/4G Data SIM, solar panel & battery are connected. No professional installation is required. Simple and quick to mount (DIY) as long as it's within any mobile network coverage area.
It doesn't matter whether the camera is located here in Australia or Internationally provided you supply a 1-2GB Data Sim card and that's it. No IT setup is needed (we do all of that for you) ready to LIVE VIEW & remotely playback recordings on any web enabled smart phone, PC, Iphone, Ipad, Mac etc. What could be easier!
Users only need a cell phone or PC....nothing more!! Our 3G/4G or WiFi enabled HD Solar Camera can be mounted anywhere, provided there is at least some mobile phone signal or WiFi is available at the camera location. If your mobile phone has 3G/4G phone coverage within the camera location, then Solar Cam will function. We can even boost cellular reception with an optional high gain antenna but in most instances it's not necessary.
Motion activated or time lapse recordings are saved to our secure SSL servers (similar to the Cloud) meaning no matter where you are, you have up to the second user name & password controlled LIVE remote camera access (including multiple cameras) various motion detection alarm notifications, email or text alerts and scheduled recording. Easy to move from one location to another. We offer free support if needed including local warranty. All Australian owned and designed.
SolarCam is now supplied with Internal memory plus remote cloud recording and both simultaneously and remotely accessed. Motion detection recording at up to 10 FPS with instant remote playback and archiving. SolarCam also boasts TIME LAPSE and motion activated recording at the same time.

Included with our system is a 12V motion triggered 50W LED Flood Light for superb night vision and/or an audio warning speaker. Read more below.
Call our office for a LIVE Solar Cam demonstration. International enquiries just email to arrange a live view camera demo appointment via Skype.
Customers can purchase outright or for those in business (builders and construction companies in particular) we can arrange leasing or rental from as little as $35.00 per week over 2 years. See our funding link below

So How does it all work and why so much interest?

If you have a remote property, mine site, unattended valuable machinery, parking lot, building or construction site, fuel-bowsers etc no matter what it is and you need security cameras but don't have power or Internet, cabling is just too difficult or costly, then look no further as Hidden Camera Surveillance (HCS) has the solution for you. Our Solar Security Camera isn't covert or hidden by any means nor intended to be. If you want to live view your site at any time and keep an eye on your valuable assets, all directly from your mobile phone, PC, Ipad or Mac and be alerted to motion after hours, you came to the right place.
3G/4G HD Solar Security Camera is not an ordinary CCTV camera by any means. We do supply and install IP CCTV Cameras and NVR systems Australia wide but more often than not, the cost to provide a security camera solution in otherwise remote locations is out of the question. CCTV or IP security cameras are fantastic although onsite Internet is required to view the cameras and playback recordings. That also means a need for constant power, cabling to all cameras (or WiFi) local NVR storage and so on. A DVR or NVR security camera system needs to be professionally installed and maintained.
With no Internet onsite, perhaps power is too far away or cabling means digging a long trench, conduit or ducting is needed, sometimes it's just not worth it. You may be on site only temporarily but still need to leave expensive tools and machinery and fuel unattended in the dark. What an opportunity for a cash strapped thief! Worry not as we have a security camera solution. So popular is 3/4G SolarCam we now export Internationally.
Cables, Internet and power issues are a thing of the past however, if you do happen to have power available, no problem we also supply a scaled down version without the solar panel and battery which makes the entire system cheaper and smaller.

All you need is a 3-5m pole or post to mount the camera, slot your activated DATA SIM card into the camera then call our office. We take care of the rest and when activated, mount the camera case to a pole and the job is basically done. Did I mention having the ideal security solution for you?? Our 3G/4G HD Solar Camera solution is so advanced we dedicated an entire website to it. See Solar Cam
Need more convincing?
The 3G/4G Solar powered surveillance security camera is 2 Megapixel (optional 3.4 MP with vary focal zoom lens) and amazing quality both day and night. This IP camera uses Solar energy to charge a 12V deep cycle battery and this keeps the system functioning indefinitely. It can function for up to 3 days with no solar panel whatsoever. Keep in mind that even in poor weather, the solar panel will still trickle feed power to the battery whilst the battery charge is remotely monitored. In more southern states such as VIC, TAS and SA to some degree, we normally prefer to supply the solar panel slightly larger than normal due to shorter winter sun bit otherwise we have many hundreds of camera functioning at this moment all over Australia, US, Europe, South Africe and the Middle East.
How does motion detection work?
Motion detection is an algorithm built into the camera, it isn't an external PIR sensor. This algorithm is highly advanced albeit easy to use so by making a few remote adjustments, the camera can record people and vehicles but is smart enough to know that a cat or dog in the motion zone is not real motion and will be ignored.
By way of an example, lets say 3G Solar Cam was mounted to a 4m pole on a building or Construction site. We know that site is active between 6.00am and 4.00pm Monday to Friday but the same site is closed at night, weekends and all state public holidays.
Set SCHEDULED recording by day when the site is busy. SolarCam will record all motion throughout the day to an internal 64GB SD memory. However, by night and at all other times, the schedule automatically kicks in and stops recording any movement to the internal memory. Any motion detected outside of normal working hours results in the recordings being saved to our remote servers otherwise refrred to as ALARM recording.
Alarm recordings are safe off site on our servers. Alarm events can trigger picture email alerts and a direct link to your camera. If the alarm event requires further investigation, users instantly login to the camera to live view, auto activate the 50W Flood light and remotely playback the entire motion detection event. All of this from any mobile phone, PC, Mac or Ipad etc.
Secure user name and password access to our Cloud servers (not a Google Cloud) stores all recordings safely and allows for full remote camera access and not just to recordings, but to every camera feature and function. If you ever need technical support or assistance, we can help any time and at no cost.
3G/4G HD 2 Megapixel Solar Security Camera
A pre-paid Telstra 3G/4G Data SIM card with 1 GB of Data per month is all you need. We can supply the data SIM with each camera or you are most welcome to supply your own. If you have WiFi available onsite, even better as our solar cam can use either the mobile phone Telstra (or Optus) network or WiFi meaning we have you covered either way. Everything you need is included.
This security camera system is designed and built in Australia ready to go in a powder coated, IP rated weatherproof enclosure (as pictured below) with sun-shield and high visibility window although we have a range of camera housings and mounting options (see additional pictures below) from which to choose. Also included is a 60W solar panel to power the internal 12V 55A deep cycle battery thus keeping the camera system fully functional. Even in times of poor weather, the internal battery has sufficient power to keep the camera working for at least 4 days. The battery is still being trickle charged even during inclement weather.
If you require a longer battery duration, a larger capacity or daisy chained battery is not a problem. We find even in poor weather, the solar panel will still feed power to the battery and in most cases a larger battery isn't necessary. There is no need to physically touch the cameras once installed. We recommend a pole mount or side of a building, something sturdy about 3-5m in height.

How do I remotely access the camera?
The advanced SSL secure Cross Platform interface (like a Could) allows for remote access to the HD 3G/4G Solar Cam via PC, Mac, Iphone and any other web enabled device. User name and password protected for authorized access only, owners are not limited to the number of users permitted to access the camera however password access can be altered remotely at any time to prevent access if necessary. In fact, every feature and function of our Solar Cam can be remotely accessed WITHOUT the need to physically touch the camera. This ultimately means very few service calls other than a quick glass and solar panel clean every now and then. No software or Apps required just your unique user name and password.
What about Motion Detection & Time Lapse Recording?
Yes indeed! One of the more outstanding functions of this camera is the motion detection algorithm which is so easy to use. A picture is basically pixels to the camera. If you encounter a situation where the camera is aimed at an area where trees and bushes are moving in the breeze causing the camera to unnecessarily trigger & record motion the offending tree brances etc can be masked out thus instructing the camera to igmore motion from the tree area.
All othe areas or zones are within the motion detecvtion zone and movment in thos ereas (not small dogs and cats) but people and cars will trigger motion recording and/or an alarm event.
If a person or vehicle moves within 2-40m of the camera the software can be programmed to record a few seconds BEFORE motion was actually detected and so many seconds after event. How it works doesn't matter the fact is motion was detected, the recording can be set to take one or two images before motion, followed by the actual motion event and then another 10-20 seconds or more after the motion event. If motion continues for an extended period then the camera will continue to record but users may enter an "interval" between motion and new detection events. All features and functions can be altered remotely. We make those changes for you behind the scenes.
If still not sure how to make basic camera function change, don't worry we can do it for you..no problem. Alarm emails or text messages are sent to you and/or any number of people (including a monitoring centre or security guard) within seconds. Cloud storage cannot be lost or tampered with.
Email & Text Alerts
In "scheduled recording mode" set to say 5.00pm to 6.00am weekdays, 3G HD Solar camera will auto switch to motion detection mode. It may be that you don't need to record any motion during a normal work day as there is a great deal of building activity going on. Live view and record at any time although some users are mainly concerned about what happens after hours which is Scheduled mode. Schedule recording (one touch on or off) enables the camera to auto arm recording at set times and dates and that might include every weeknight from 5.00pm to 6.00am, all day and all night, weekends and all state public holidays. Even if you forget about public holidays, the camera certainly won't.
If motion is detected during that time frame, not only will any movement be recorded but at the same time our servers will if armed, email or text an alert one or more preset email addresses and/or mobile numbers. The "alarm alert" is basically a heads up that movement has been detected during a time where there should not be movement. The email alert will include an actual recorded JPEG image so you can then decide whether to take the matter further by logging into the camera live or remotely viewing any "alarm event recording" If warranted call for Police or security guard assistance and email or MMS the alarm image to the patrol person. Either way you have the time and date stamped recording ready to take any action.
Time Lapse Recording
Time Lapse recording is often required on Construction sites. Time lapse is basically the camera taking a high resolution image at a designated time each working day. Set the camera to Time Lapse mode by day and then after hours when the site should be vacant and unattended set "scheduled recording mode" where the camera will auto arm into Motion Detection Mode. This mode can be armed or disarmed at any time you choose. As mentioned, scheduled recording will take into account weekends and state by state public holidays. We will set this feature up for you, just advise us what you want the camera to do. Please note SolarCam can simultaneously do both Time Lapse and Motion detection.
Ideal for farmers, water troughs, cattle, gates, building sites, mine sites or any area that requires remote monitoring and scheduled recording. After all, if something happens on your site, you want to know about it.
Can 3/4G HD Solar Cam see in the dark?
This is where other CCTV security cameras tend to be obsolete but we have this aspect covered. Our optional 50W LED Flood light is amazing at night. 12V powered just like the camera or it can be an totally independent LED Flood light. Consequently, when motion is detected (up to 15m or more away) the floodlight will illuminate for a set period of time allowing the camera to record in high quality 2 megapixel quality at night and in colour. When motion ceases, the LED will switch off to conserve power.
The latest advance in night vision technology is the ability to remotely switch the flood light on or off at any time you choose. For instance, you may want to see what is happening on your site at night regardless of motion. If night lighting on your site is poor, 3G HD camera interfaced flood light will auto activate as soon as you login. You can see in colour at night and so will the 3G Cam. When the user logs out, the LED flood light will switch off. In other words the light is NOT ON all night, only when you login or when motion occurs within say 15m of the flood light. The LED Flood light is also a huge theft deterrent as a thief prowling about at night doesn't want to be seen and a thief certainly doesn't want to attract attention.
Add an audio warning speaker to let the prowler know that you are right onto him and he doesn't run off, then you have a really desperate thief to deal with. At the end of the day, you already know there will be a robbery attempt at some point but as soon as the culprit becomes aware that his/identity has been compromised, there has to be easier targets without camera security.
Some customers ask can the camera be fitted with an IR (infra Red) illuminator rather than a flood light? An IR CCTV or camera must stay illuminated all night which constantly draws and wastes power. For that reason alone CCTV IR cameras are not suited to solar power. The key to our system is power conservation versus power generation. Furthermore only a B/W camera can see or use IR (not a colour camera) and if you compare IR vision to true flood lighting, there is no comparison whatsoever, LED wins hands down. IR offers a distorted on unrealistic view where a persons eyes glow or appear to be florescent, clothing and skin tone has no colour or definition and more often than not, in terms of positive identity, it can be difficult to determine whether the person is even male or female. Not the best option for security and personal identity where IR recordings are used as evidence.
Our 3G HD Solar Camera is available with an optional LED Floodlight connected to the camera battery or be independent altogether with a separate smaller solar panel and internal battery. These 12V Solar floodlights are 50W and from 60 to 120 degree angle. Basically the wider the angle the less illumination distance as higher LED wattage doesn't necessarily compensate.
Provided the area under surveillance is already reasonably well lit at night, it may not be necessary to add any additional floodlighting. LED offers higher quality recording and positive ID.
What can I expect to see at night?
The following images have been quality reduced for web use however they do provide an insight into the quality and clarity. The images are real and demonstrate night vision under typical street lighting with no LED lighting assistance. The second image depicts the same camera in total darkness with the LED Flood light activated.
The overhead bridge is approximately 100m from the actual camera. If you want to see the true 2 Megapixel image quality, just call or email this office.
This picture below depicts a scene in total darkness and the only illumination is our 50W LED Flood light.
The following images depict 3G Solar Cam at night. In some cases at night a number plate can be see even with headlights on but this is NOT a number Plate recognition camera. More often than not the number plate cannot be seen at night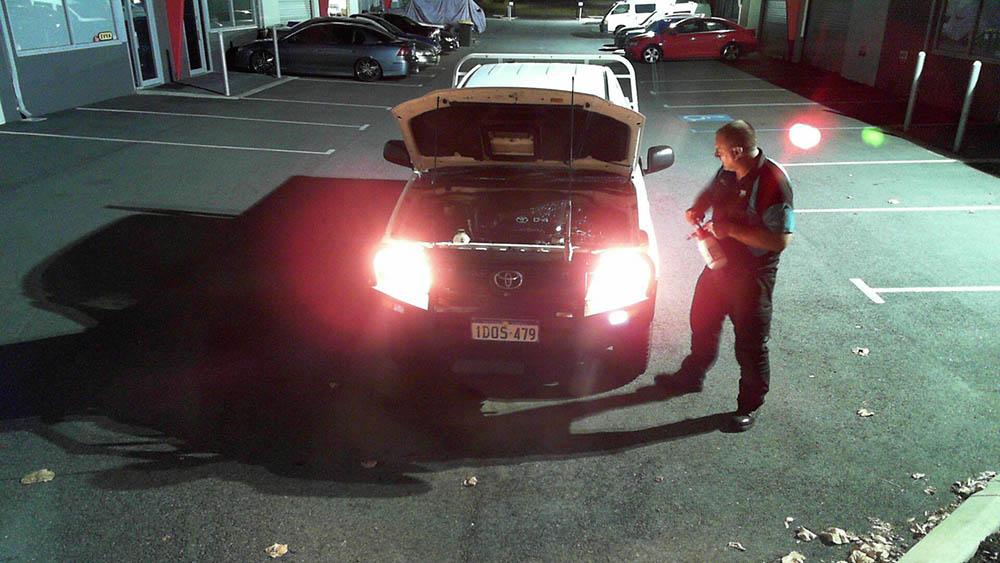 This night image depicts a yard in complete darkness other than the 50W LED camera light illuminating the yard. The wire fence is about 20m from the camera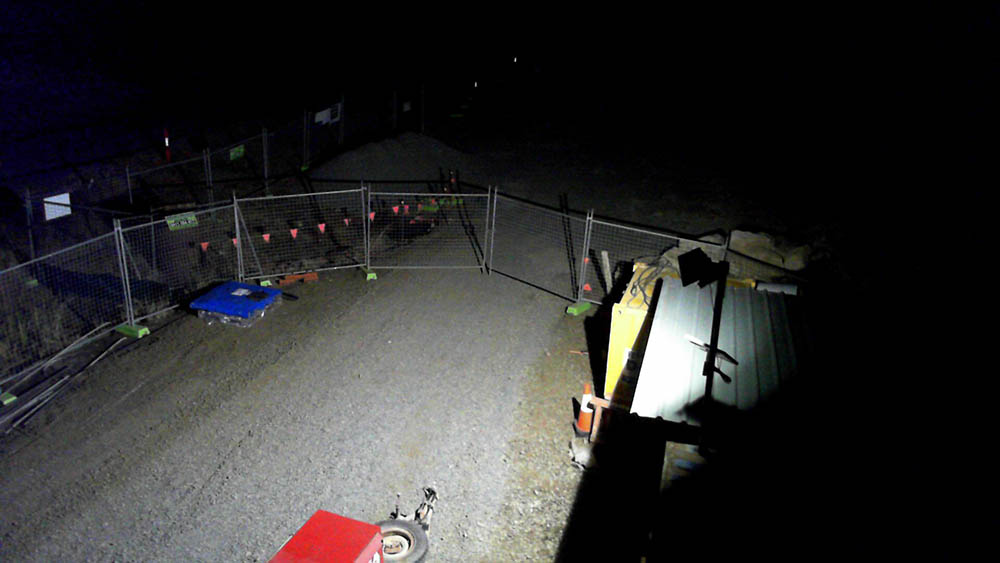 Are there ongoing monthly or annual costs?
Yes there is a small ongoing monthly or annual server or cloud storage fee which is about AUD$1.00 per day. Customers may supply their own Data SIM card normally 1GB of data per month per month is adequate. Call for more information.
International customers must supply their own data SIM card regardless although our camera will function on any mobile phone network or WiFi if available. International customers will need to provide information about the SIM card to be used.
If power happens to be available at the camera location there may be no need for a solar panel etc thus less overall cost. For that reason we don't encourage online ordering until we know more about requirements such as

LED Floodlight for night recording

Audio warning speaker

3G or WiFi

Power or no power

Type of camera housing preferred

Who will be supplying the 3G SIM card

Any special request
Can I use my own servers and bypass your Cloud?
No. You are not directly accessing the camera as such. The IP camera communicates directly with our servers through the 3G network and users need to communicate with the camera through our Cloud like servers. Our servers do the recording, live access, indexing, chnaging eatures and functions. Without the server it won't work simple as that.

How fast is the LIVE View & Recording?
This is what makes 3G HD Solar Camera unique and quite unlike any other similar or "copy cat" security camera. Years and millions of dollars have gone into the development of both the hardware and software driving this 3G/4G security camera. In terms of "LIVE VIEWING" it's simply a matter of logging in and selecting a preferred viewing speed and visual quality. Remember, just like visiting any other remote access service, data is being used even when viewing. The refresh image rate can be anywhere from 2 frames per second to 1 minute per frame or longer. Users may select low, medium or high resolution all of which has a bearing on data usage so it's important not be online live streaming for extended duration unless your mobile network plan is on the larger side. View and playback recordings when needed but it should not be used as a permanent live viewing camera. The camera is still active and recording regardless of whether you are remotely logged in or not.
The same applies to motion detection recording. Resolution can be set to low, medium or high whilst the recording speed and number of images taken during motion is adjustable to suit individual needs. For example, when the camera senses motion, you might want the camera to save 2 images in the seconds BEFORE motion was detected (pre-recording) and during the next 20 seconds (post recording) another 10 images 2 seconds apart.
The recording speed, quality and duration can be altered and easily adjusted at any time to suit. The resulting playback looks more like a video clip rather than just a few pictures. The 2MP JPEG images are much higher quality compared to an AVI video clip. Freeze framing an AVI or video clip and then attempting to zoom or enhance will often result in a substantial lack of detail or distortion. Motion JPEG images on the other hand are crisp and clear, can be enhanced, saved and emailed much easier than video and of course it has the added benefit of far less bandwidth and server storage. Sending a video clip via a 3G network is data costly and slow whereas JPEG images transmission is fast and much less costly.
An email alert or text can be sent to you when alarm mode is active thus notifying that motion has been detected. From your mobile phone or PC, access the server and replay that recording. Any images that need to be saved to your PC hard drive is simply a matter of selecting the desired recording and save. The image/s will be saved to desktop or folder at the recording quality pre selected.
Am I able to zoom in on a live view or recording?
Absolutely and this is one of the advantages of having a high 2 Megapixel display and recording. Customers can use the zoom function in the right hand corner of the main view to digitally zoom or enhance up to 14X and the same applies to recordings. In this regard, should you wish to zoom onto a number plate (provided the vehicle or plate is not too far away) the registration number can be read without pixilating. Try to do that with a non megapixel camera and its next to useless. Any required image/s can be downloaded to PC and archived for future reference.
Do you have a camera with a telephoto lens?

The standard camera lens is wide angle 3.6mm however we also have the same camera with a telephoto 6mm or 12mm lens. A 12mm lens can see a car number plate at over 40m. Call for more information.

Want to know more?

Our 3G HD Solar Camera is constantly being updated with the latest technological advances but don't worry, you won't be left behind. Firmware upgrades are available to all customers at no extra cost. Nothing for you to do as we take care of the lot. As demand for more and more features increases, our system designers and IT experts will be right there. If you need any technical support or assistance, we are here to help you and with permission take remote control of your camera settings before delegating back to you.
One new customer recently asked whether it was possible to interface an RFID alert system with our Solar Camera. The company was not so concerned with motion but more with all staff carrying RFID devices or tagging which is similar in some respects to anti theft devices attached to stock in clothing stores. The person carrying the RFID device would be scanned which in turn creates an "alarm type" recording that can be easily archived for future reference. Not only is the RFID activation recorded, the identity of the person actually carrying the device is positively identified. May not be something you need but the point is, we have the expertise to interface other technology as well.
Our Solar security camera relies upon 3G/4G or WiFi services (not the GPRS/GSM/2G older networks) to reliably deliver recordings to our Cloud severs which happens in an instant. Nothing is ever lost and with a better than 99.9% up time, nothing to worry about. So when we say you access the camera, we actually mean you access our secure SSL Cloud servers to see the camera LIVE, play back recordings and remotely change camera settings as desired.
Is 3G HD Solar Camera available with Internal memory?
By way of the most recent development, we have released our internal HD recording which is tantamount to an NVR (Network Recorder). With USB Flash Drives now offering hundreds of gigabytes of memory, as a customer option, you may now add camera internal memory to record motion in super high resolution and up to 10 images per second. Easy remote access to the flash drive, play back or save recording to PC without physically touching the memory stick at all. This basically means that onboard camera storage can now be quickly and remotely accessed at the touch of a button. View and upload the onboard recordings remotely and any images you need to retain, simply save to PC. So now you have a complete solar security camera solution anywhere, anytime and power is not required. If you have power handy great, no problem as the same system can be supplied without the solar components but otherwise it will be exactly the same but even less cost.
Can Solar Cam warn off intruders?
Absolutely, are we still ticking all the boxes yet? With the inclusion of an optional external speaker (see the main camera image) the speaker can be added to play any desired pre-recorded audio warning with words to the effect "Police have been alerted" or "you are trespassing on private property" etc. This is not a two way communication device it simply broadcasts an audio warning if motion is detected within a specified schedule but the audio warning can be remotely switched on/off as you choose. In the event of a text or email alert where perhaps an intruder is known or thought to be onsite, by logging into the camera, the LED flood light will illuminate and the audio warning can manually activated as well.
Ideal for;
Schools
Construction Sites
Farms
Industrial Areas
Car Parks
Sheds
Remote Sites
Display Homes
Unattended machinery
Councils
All Govt agencies
Wildlife Monitoring
Water Troughs
Bush Dumping
Prohibited zones
Fuel Bowsers
Mine Sites
3G Solar Cam Recording image examples
This is a medium resolution 1 Megapixel day picture. Quality and size has been reduced for web use. The recording quality is tantamount to that found in most mobile phone cameras where quality, colours etc can all be adjusted. Easily zoom onto the car to see the number plate with clarity.

This image is recorded at higher 2 Megapixel resolution and despite the adverse lighting conditions late in the afternoon, there is no mistaking identity or number plate. Please note all images depicted are true but used for demonstration purposes only.



In this image we can typically see a shipping container in the background, sheds and machinery so any person moving about in this area would indeed be positively identified. During scheduled recording, email (picture attached) or text alerts may be sent to multiple email or mobile numbers as a heads up warning to motion being detected.

The 3G Solar Cam image depicts an early morning car park office view actually through a glass window. Here we can see some sun reflection in a worse case scenario yet picture quality is still quite good despite the adverse lighting conditions.

Solar Cam new all in one (Case Option 1)

Pictured below is our latest release all in one 2 Megapixel Solar Cam system ready to mount and switch on. The battery, camera, circuit board etc are securely housed within the single lockable metal enclosure for easy access and no exposed cables. As an added deterrent, the blue and white Police like emblem is a visual warning that the premises may be monitored and not to be under estimated. The emblem is optional.
The optional LED motion activated flood light serves two purposes, Illuminating the area at night when motion is detected, assisting the camera to record in high resolution colour at night and startling any intruder which in many cases is all the deterrent you need. The intruder will be recorded, often he/she will look directly at the light or camera and a nice facial ID recorded.
The pictured optional speaker on the side of the metal enclosure will announce a warning if motion is detected during a "scheduled alarm recording mode" with words to the effect that you are being recorded and Police alerted. Ideal for pole or wall mounting.
Solar Cam CCTV Case (Option 2)
Pictured below is the same 2 Megapixel Solar Cam system ready to mount and switch on. Once again the battery, camera, circuits etc are securely housed in the one lockable metal CCTV type enclosure. Pictured is the motion activated LED Flood light and speaker. Again the Solar panel can be moved away from the actual camera for added security or to a sunnier position. The same applies to the optional LED Flood light but in this instance the camera battery and solar charger are within the metal lockbox and locked away from the actual camera. External cables between the devices can of course be inside the metal pole (rather than exposed as pictured) thus out of reach and secure.

If you have an questions about our fantastic 3G/4G Solar Camera or you would like to see an actual camera demonstration, give us an hour or so notice, be in front of you're PC and we will provide you with a temporary remote user name and login. You will be able to see our test camera live, ask any questions and at the same time, show you the camera features and functions and how easy they are to learn and use.
I want to know more about the new onboard CCTV Recording and how it works.
Depicted below is a full page of motion detection events in this instance all saved to the internal camera memory. Each thumbnail depicts a time and date and by simply selecting any thumbnail, the image will be displayed full screen followed by a long series of additional thumbnails all a fraction of a second apart. Any or all images may be played like a video clip, saved or backed up to PC HDD. The memory stick may also be removed from the camera to download via USB to PC. Any non required images may be remotely deleted by ticking a box and tapping "delete marked" otherwise when the memory capacity is depleted, it will auto over write or recycle from the earliest date.
One of the main advantages of using an internal memory stick is the speed and recording capacity. With enormous recording potential, each thumbnail is still quite visible from our servers but at just 9kb, virtually nothing in terms of data. As you play through the recordings (perhaps not all but some that are of interest) only then are you using data as the recordings are then being uploaded at the higher resolution and larger size. The end result means far less SIM and Cloud data being required. We suggest a 1-2GB data SIM card is all that is needed and for that relatively small amount of data requirement per month, the cost is actually quite minimal. SIM data is easily adjustable anyway and you may find that even 1GB is too much. It all depends on how often the camera is being remotely monitored and how much is saved to our severs. Either way its very minimal indeed.


With a memory stick interfaced with the camera, here we have an event playback using a MAC although it's exactly the same using a Windows PC or mobile phone, in fact any smart device. In the top left hand corner of the screen, note that the EVENTS tab is highlighted orange. Motion detection alarm events are depicted vertically on the left hand side so by simply clicking the event, the recording will be displayed full screen. The main full screen view will be displayed in a lower resolution (conserving data) however, by simply touching the "zoom" tab in the bottom right hand corner, the image depicts its full 2MP recording quality. The difference in quality is quite noticeable even in this lowered resolution web demonstration.
In this playback, motion was detected and the camera was programmed to take 7 images over 10 seconds. The 7 thumb nails at the base of the image depict the motion event. To playback, press the play tab in the centre of the main screen and all 7 images will display rapidly in a "video like" display although any of the thumbnails can be highlighted to freeze frame in full screen mode. In full screen mode users have the option to enhance or zoom into the picture up to 14 x digital or save the 2MP picture to PC Hard drive for future reference.

This image is the same as above however, note the 1.7x digital zoom image enhancement which is conducted remotely. The digital zoom can be enhanced to 14x. Note the CCTV tab highlighted orange. That means we are actually playing back a recording from the internal flash drive or USB memory stick rather than a saved Cloud recording. Even if internal memory is preferred, our Cloud servers can still remotely record and save "alarm events" so nothing is ever missed. Internal memory can record as fast as 10 images per second which is about cartoon speed. Also note that each thumbnail at the base of the main image is actually a 2 megapixel picture all time and date stamped. The "sequence" tab on the right hand side depicts a date or calendar so by touching the calendar users may select any time and date within hours, days, weeks or months previously depending on the memory capacity selected which could be hundreds of gigabytes.


Same as above except here the zoom is normal 1x digital or a wider angle view.

How much recording can a flash drive hold?

Ay high resolution each image is about 200kb which equates to 5 images per MB. If 1000MB = 1GB then we are looking at about 5000 images per GB. Flash drives these days are cheap but the capacity is enormous and up to 1TB or more. Therefore a 1TB flash drive can store up to 5 million x 2MP images. That could take many months to fill. When it is full you won't suddenly lose the lot. Our system is designed to return to the very earliest date and earliest recording and then slowly over write. If you prefer to remove the flash drive from the camera and slot it into your PC, no problem otherwise it all there to remotely view and save.
What does it cost and what are the camera differences?

Our 3G/4G or WiFi Camera is a fraction of the cost of any installed IP camera, specially when one takes into account the cost to run cables, setup IP addressing, interfacing into a new or existing network, labour, plus customers need an NVR system with HDD installed and so it goes.
Please note we have a "Basic 3G Solar Cam system" which is 1MP quality, unpainted housing, smaller solar and battery and charger, smaller 20W Flood light but this model doesn't accommodate a USB Flash drive. The basic system is perhaps more suited to farmers, cattle troughs and areas of low security need. We can always upgrade the basic camera the professional series components but at the end of the day the overall cost will be more.

The "Pro 3G Solar Cam System" on the other hand has all the bells and whistles with a 2MP camera, powder coated case, larger solar panel and battery, will accommodate a Flash drive, larger optional 50W motion activated flood light and optional speaker etc. This system is more costly but needs to be taken into consideration depending on requirements. More suited to the more mission critical scenario such as building sites, mine sites, unattended machinery etc.

In terms of installation customers this is easy DIY. You only need a sturdy metal pole perhaps 3-4m in height to attached the camera casing, or use the side of a building or structure. The solar panel needs to face in a N/E direction at about 30 degrees. The solar panel can be separated from the camera and roof mounted if desired more or less away from the camera but you need to let us know the cable length required between the solar panel and the camera.
With multiple orders we can offer better discounts and in some instances, customers may prefer to supply their own 40W Solar panel and/or 12V 55A Gelcel battery etc and if that's the case, then prices can be further adjusted. The more of the heavier components the customer is prepared to supply the less it will cost to freight all of which needs to be taken into consideration. Otherwise simply order the full kit with or without the LED flood light and warning speaker. For that reason perhaps its a good idea to call or email our office for pricing based on whether we supply a system all ready to go or just certain components.